Introduction
These days it seems like you just can't cool processors well enough. Water cooling, while effective, is hardly practical for most people. You can go the opposite route and buy a cooler with a powerful fan, but then that gets annoying after a while. The happy medium now being reached is by large radiator-ish heat sinks that utilize heat pipe technology to dramatically increase surface area. The performance of these types of heat sinks is awesome and they usually require larger, but more quiet, fans. Many can operate without fans but overclockers are utilizing their massive surface area and higher-speed fans to get performance that is close to watercooling. There seems to be two main ways companies are engineering their new heatsinks, up or out. Now, one of the big problems with these massive heatsinks is that they have compatibility problems with motherboards and cases. Coolermaster created the Hyper 6+ on the concept of "up", it's a tall heatsink, one which interferes with the 80mm fan on the side of my case.
Specs
| | |
| --- | --- |
| Dimensions | 118(L) x 107(W) x 146(H)mm |
| Weight | 971g |
| Base Material | Copper Base and heatpipes, aluminum fins |
| Bearing Type | 2-Ball |
| Speed | 1,800 ~ 3,600rpm ± 10% |
| Noise Level | 20.6~ 46.4dB ± 10% |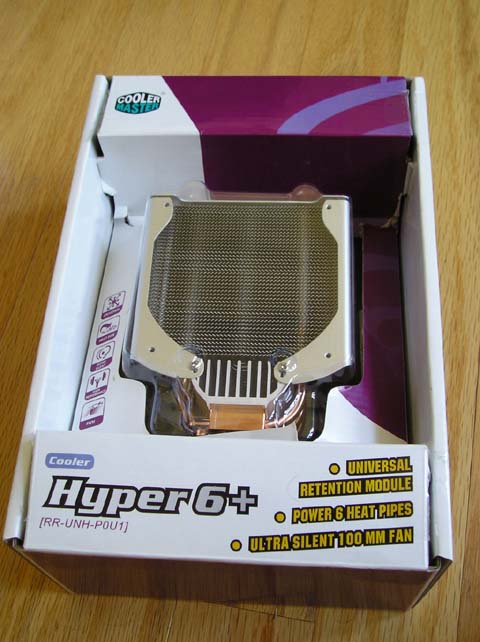 Just looking at this package is pretty cool. Your first question would be "Wow, should I be mounting this to my car radiator for additional cooling or does it really belong in my computer?"