Nexus LXM-8200 CPU Cooler
Nexus LXM-8200 CPU Cooler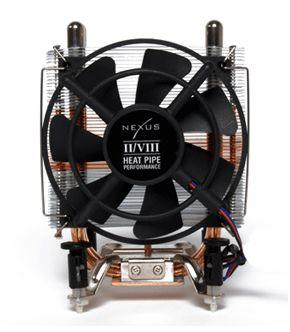 Nexus recently sent TechwareLabs a few things to review, starting with their flagship of the LGA775 coolers, the LXM-8200 CPU Cooler. This cooler has an open frame fan design and is a hybrid mix of aluminum and copper for the fins. The LXM-8200 CPU Cooler is also heatpipe based with the fan mounted vertically instead on horizontally on top.
As with many of the Nexus products the LXM-8200 focuses on being silent. Its 10cm fan is rated at 17dBA and the combination of 8mm heatpipes and copper/aluminum fins are meant to help control your CPUs anger quickly and silently.
Packaging:
This cooler came in a small box with nothing more than the cooler and a packet of thermal paste. This was nice because there were no small screws or weird brackets to lose. It also means that this cooler is solely designed for the LGA 775 socket and cannot be used for another type of CPU. Many manufacturers make their heatsinks universal so as to cut costs and be more flexible for consumers.
| | | |
| --- | --- | --- |
| Front | Back | Specifications |
Click on a Thumbnail for a Larger Image
Specifications (from Nexus.nl) :
Cooler Specifications
Dimensions: 11 x 7,2 x 14 cm/4.3 x 2.8 x 5.5 inch (including fan)
Fins: 19 pure copper fins, 40 pure aluminum fins
Heat Pipe: 2 copper heat pipes with a diameter of 8mm/0.3 inch
Base Material: Copper

Fan Specifications:
Propeller diameter: 10 cm/3.9 inch
Mounting: 92mm case fan standard
Speed: PWM controlled, Max. 1500RPM ±10%
Noise level: 17dB(A) ~ 25.5dB(A)
Bearing: EL bearing
Rated voltage: 12V
Rated current: 0.18A
Power consumption: 2.16W
Warranty: 3 years
As we discussed in our review of the Thermaltake MaxOrb copper is better for absorbing heat while aluminum dissipates heat better. The copper/aluminum hybrid here may work against the overall effectiveness of the heatsink which we shall find out in our testing.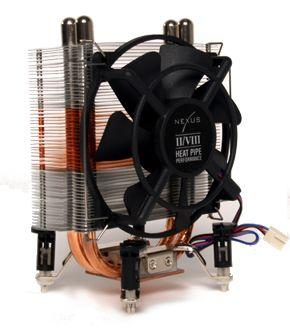 Testing: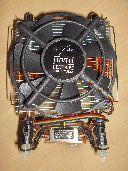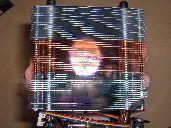 We tested the Nexus LXM-8200 against four other competitors, the Thermaltake MaxOrb, Thermaltake V1, Glacialtech 5710, and the stock Intel heatsink. The coolers were tested using AiT Cool Silver Thermal Paste on idle and on load. Prime95 was used to achieve 100% load. The results were as follows: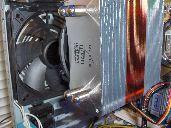 CPU cooler: Idle Temp: Stressed Temp:
Thermaltake MaxOrb 27-28 40
Thermaltake V1 28 41
Nexus LXM-8200 28 43
GlacialTech 5710 28 44
Intel Stock 30 47
As you can see, the Nexus places right smack dab in the middle of our lineup. The idle temp is right in line with allof the other cooler and the load temp is only 3 degrees above the MaxOrb at 40. These results do not show that the extra 3 degrees come at a substantial increase in noise and the LXM-8200 is focused upon silence and not overclocking. This solution is perfect for the office user who wants a quiet machine with cooling appropriate for their processor. The LXM-8200 will not be winning any cooling battles but it wiill also not be competing for your attention or keeping you awake at night. We believe that it is a great solution for the user who doesn't plan on overclocking, but wants their PC to be hitman silent.

| | | |
| --- | --- | --- |
| CPU Cooler | Temp | Price |
| Thermaltake MaxOrb | 27C | $49.99 |
| Thermaltake V1 | 28C | $58.99 |
| Nexus LXM-8200 | 28C | $49.95 |
| GlacialTech | 28C | |
| Intel Stock Heatsink | 30C | Free |
Conclusion:
The Nexus LXM-8200 is a fine cooler if silent is what you're looking for. With its massive 8mm heatpipes, it takes a good chunk out of heat for its size. Because of its comparable value to the Thermaltake MaxOrb, we cannot recommend this product for high end cooling, but we do recommend it for high end silence.