Razer Boomslang Collector's Edition 2007 Gaming Mouse
Razer Boomslang Collector's Edition 2007 Gaming Mouse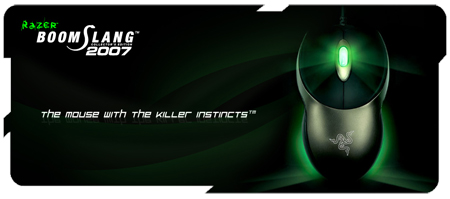 Introduction:
Today TechwareLabs brings you a look at the revamped Razer Boomslang™ mouse and takes you back to the roots of this mighty mouse.

Some of you might be old enough to remember the original Razer BoomSlang™ ball mouse, which was released back in 1998 and basically put the Razer™ name on the map with regard to serious gaming mice.
All ball mice were pretty much alike and generic in the 90's, when Razer™ came into the ring with the original BoomSlang™ Gaming Mouse. The original Boomslang™ mouse came with a whole new serious gaming look. Its' low-profile sleek design and large buttons design along with coming in two different flavors... a 1000 dpi and 2000 dpi versions. The original Boomslang™ mouse had a unique ball location, as it was located back within the palm area, making it react differently than any other mouse available and I must say it took a little time to get used to it. Back when this mouse first came out, I rushed out and purchased the 2000 dpi version, since I was really getting hooked into Quake & Quake2 and this mouse offered features that I was looking for, and today I present in this review, images of my very own boxed original Boomslang™ 2000 dpi mouse to add to the comparisons with the new Boomslang™ Collector's Edition 2007 mouse, "The Mouse with the Killer Instincts™".
REALTIME PRICING