Razer Destructor: Gaming Mouse Pad
Razer Destructor: Gaming Mouse Pad

Introduction:
While at CES 2008, Razer was nice enough to give us one of their newest products. Released just under a week ago, the Razer Destructor sets new bars for precision gaming mouse pads. The Destructor has claimed to improved mouse tracking speeds up to 37%. We look forward to putting these figures to the test.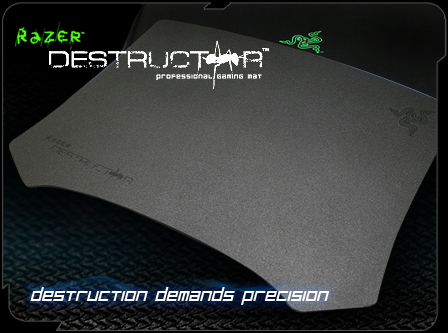 Razer's Press Release:
Las Vegas, NV – January 07, 2008 – Razer™, the world's leading manufacturer of high-end precision gaming and lifestyle electronics peripherals, today unveiled the Razer Destructor™, the optimal gaming-grade mousing surface made for optical and laser mice at the Consumer Electronics Show (CES) at the Las Vegas Convention Center at booth number 5733 North. In response to the gaming communities search for improvements in mousing technologies, Razer has co-developed the Razer Destructor with some of the best pro-gaming teams in the world.
Packaging:
Contents:
Razer Destructor
Premium lightweight protective case
Certificate of Authenticity
Features:
Razer Fractal™ surface for high-precision gameplay
Optimized for both optical and laser gaming-grade mice
Ultra-wide size ideal for continuous, rapid swipes: 350mm (length) x 280mm (width) x 2.3mm (height)
Non-slip rubber base for firm grip on smooth surfaces
Includes a premium lightweight protective case