Razer Krait 1600dpi Gaming Mouse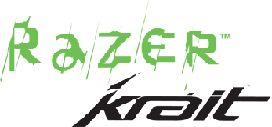 With the vast number of computer parts and peripherals on the market today, there is one main peripheral that connects the user with the heart and soul of their personal computer - the mouse. While some computer mice choose to have lasers, and some to have balls (wink), Razer decides to simply make the best gaming mice available. With a line of computer mice that fits everyone's personality and wallet, Razer brings us one of their fine products: the Krait, for an MSRP of $39.99.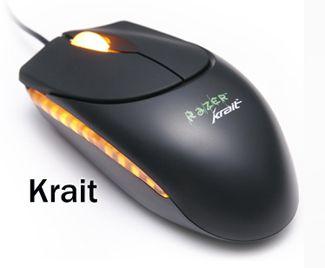 Highlights:
The Razer Krait is capable of performing up to 1200 APM (Actions Per Minute), enhancing RTS (Real Time Strategy) and MMORPG (Massively Multiplayer Online Role Playing Game) games.
Its infrared sensor is rated at 1600dpi, approximately double the dpi of an everyday mouse. For those of you who are a bit rusty on your definition of DPI, it stands for Dots Per Inch, and comes into calculation for how many pixels you must move the mouse to move a pixel on the screen. If you have an 800x600 screen that is 20", you take 800*600/20 = 24000. This number is then divided by the number of DPI of your mouse. A standard 800DPI mouse would take 24000/800=30 pixels to move in order to show a pixel of movement on your screen. The Krait's 1600DPI requires you to only move 15 pixels, resulting in faster response times, and an overall faster mouse for gaming.
The Razer comes with On-The-Fly Sensitivity, which allows you to change the mouse sensitivity right in the middle of a game.
Reviewer Photos:
(note: I wrote the review with it, so it's scratched on the bottom)
Specifications:
1200 actions per minute
1600dpi Razer Precision™ infrared sensor
On-The-Fly Sensitivity™ adjustment
Always-On™ mode (the mouse lights never turn off)
Ultra-large non-slip buttons
6400 frames per second (5.8 megapixels per second)
16-bit ultra-wide data path
Up to 40 inches per second and 15g of acceleration
Three independently programmable Hyperesponse™ buttons
GlowPipe™ non-slip side rails
Ergonomic ambidextrous design
Zero-acoustic Ultraslick™ Teflon feet
Gold-plated USB connector
Seven-foot, lightweight, non-tangle cord
Approximate size: 120mm (length) x 60.5mm (width) x 37mm (height)
Razer's Driver Program:
There is a program you can install with your Razer Krait that allows you to adjust the sensitivity, toggle On-The-Fly, adjust double-click speed, scroll wheel speed, toggle universal scrolling, right or left handed orientation, button assignment, mouse wheel options, and driver update.
| | | |
| --- | --- | --- |
| | | |
| Sensitivity, On-The-Fly, double-click | scroll wheel, universal scrolling | hand orientation, button assignment |
Razer.com's Photo Gallery:
Conclusion:
The Razer Krait does a fantastic job for its price. At an MSRP of $39.99 at the Razer Store, this gaming mouse can be picked up without having sharp pains in your wallet. We did manage to find the Razer Krait for $28 which is not only a bargain but places it as an easy decision over just about any mouse. Check out our full listing of prices and availability at the top of this article to see where you can purchase the Krait cheap and have it delivered. Its 1600dpi rating is almost double that of a standard mouse's, and it has fully customizable buttons. I believe the Razer performed just as well as it promises to, and would highly recommend getting one.