Super Talent ProjectX 2GB DDR3-1800 kit
Super Talent ProjectX 2GB DDR3-1800 kit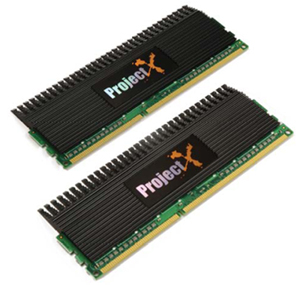 Introduction:
Super Talent, a long time name in the memory industry, releases its W1800UX2GP 2GB DDR3 kit to us for review. With its slick black heatsinks and unique heatspreader pattern, how will it perform?
Super Talent's Take:
"The W1800UX2GP is an extreme performance 2GB DDR3-1800 memory kit based on advanced Project X technology. This kit supports 1800MHz+ clock speeds and aggressively tuned latencies to deliver ultimate performance. It is ideal for gamers, power users and overclockers, and is perfectly suited for motherboards based on the Intel P35 or X38 chipset. This kit has been tested and is guaranteed to operate at 1800MHz at very aggressive 7-7-7-21 latencies at 2.0 volts. It has been tested as a matched pair of modules in a dual channel motherboard to ensure ultimate reliability, compatibility and performance. Project X employs an extreme cooling solution that offers double the surface area and 106% more aluminum mass than standard heat spreaders. With Super Talent's special thermal adhesive, this cooling solution provides superior heat dissipation that results in a cooler, faster memory device."

Features:
- 2x 240-pin DDR3 DIMMs
- Non-ECC, Unbuffered
- 2GB kit (2x 128Mx64)
- DDR3-1800, 7-7-7-21 latencies
- Single rank
- Chip Architecture: 2x 8 chips, 128Mx8
- Project X extreme heatsinks - front & back
- SPD*: DDR3-1066, 7-7-7-18 latencies
- Made in USA
- Super Talent Lifetime Warranty
Real Time Pricing: