Transcend JetFlash 110 1GB USB Drive
Back in highschool, I used to carry around a 250MB Iomega ZIP Drive powered by the ultra fast Parralel ports of the times. For a time it was good, I could fit an amazing 250 whole megs of space - compared to the barely 1.4MB my mates carried, or less than 1MB if they emailed themselves the work through webmail. Carrying it around in its native box, carefully setting it all up during class - including the power source - and knocking up the driver CD so Windows recognises it correctly. Dare I say it, I was a geek.
Now, 8 years later the times have changed dramatically(although the geekyness is still there). No more do we use the (un)trusty floppy to store our work or even consider lugging around ZIP drives, now its USB Drives, USB Sticks, USB External Burners and the list goes on... Now we're storing alot more data, in a much smaller amount of space and lets not forget the need for speed.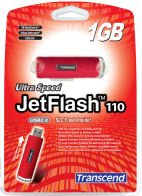 Today, we take a look at Transcend's newest offering, their flagship JetFlash 110 USB Drives.