Sector Labs H2GLOW 2 LED Faucet Light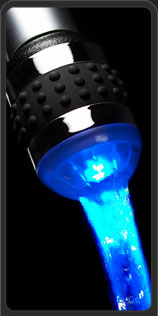 Introduction:
Every day there are more and more household gadgets to keep you busy and entertained. Today, we investigate the H2GLOW faucet attachment which is produced by Sector Labs. This device has a fairly innovative feature that helps to protect its users. We would like to thank X-tremegeek.com ahead of time for providing this product.
Features:
- Temperature sensitive
- Water glows BLUE when cold
- Water glows RED when hot
- Fully automatic (no buttons).
- Batteries included
- 2 universal adapters included
- Compact design
- Conserves water (<2gpm)
First Impression:
The packaging of the H2Glow was very simple yet effective. The box seemed very sleek, and all of the components were protected by a formed plastic tray. Included in the package was the faucet attachment, adaptor couplings, batteries, a spare filter screen, water flow restrictor, and a manual. I decided that this thing was very simple and decided to put the batteries in it right away to get it ready to put on my faucet. I admit that I was very excited and wanted to see this thing work, so I completely ignored the directions, in the end this would come back and bite me. In the third picture, the bottom left is actually the module that glows, accepts the batteries and decides if the water is hot or cold. Upper left is the spare metal screen and the two pieces on the right sandwich the electronic module and connect to the faucet.
Real Time Pricing: