Brite Strike Blue Dot Series Flashlight
Brite Strike Blue Dot Series Flashlight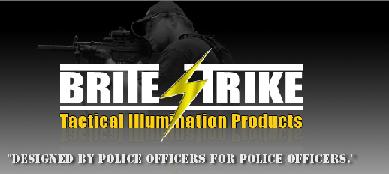 Introduction
Today we take a look at the Brite Strike Blue Dot Series Flashlight. This may not seem like the type of thing that we normally review, but it caught our eye. The Brite Strike brand of flashlights are "designed by police officers, for police officers". With quality that seems to surpass all, this flashlight is built to be like no other. This model has three modes of light output - High, Low, and Strobe.With all the hype behind this light, can it stand up to to the test?
Brite Strike's Take
"Tactical Blue-Dot" Series For Law Enforcement"

Brite-Strike "Tactical Blue-Dot" Patrol Officer series, designed by police officers for police officers.

These CNC machined milled aircraft aluminum Mil Spec type III super hard anodized black finish lights have a unique three sided body for more ergonomic grip, with a front "Tri-Strike crown" and aggressive rear "Tri-Strike crown".

The pocket clip is specifically designed for line officers and is reversed from other tactical lights. The clip features a greater clearance for lighting fast draws from either a BDU pocket, duty belt, or six pocket police pant. It also allows for quick mounting on a uniform epaulet, and quick removal when needed.

The beam is a brilliant white light with a wider "spread" for a flood effect, which illuminates the entire area of a vehicle on a stop.

The BD-RL198-HLS-2C 3 watt Luxeon Led light provides up to 198 Lumens on high for up to 2 hours, and 90 Lumens on low for up to 4.5 hours and Strobe for 3 hours.

Waterproof and shockproof.


Packaging
The packaging on the Brite Strike Blue Dot Series Flashlight was nothing to brag about. It was simply put in a box inside of the included carrying case. Normally this would be bad, however considering the durability of this flashlight, the manufacturers really have nothing to worry about. Batteries were included, along with the flashlight, a carrying case, and an instruction manual.
| | |
| --- | --- |
| | |
| Brite Strike Blue Dot Series Flashlight In Box | Brite Strike Blue Dot Series Flashlight In Box |
| | |
| Brite Strike Blue Dot Series Flashlight In Case With Included Batteries | Included Batteries |
REAL TIME PRICING