AMD Introduces The DTX Form Factor
AMD Introduces The DTX Form Factor

Convergence:
Convergence is the term used to describe two or more things coming together. It is also an appropriate term for the driving force behind DTX as consumers expressed the need for energy efficiency, reduced noise, and a small form factor. These three key attributes really define the core of what makes up the DTX put forth by AMD.
What is DTX?
DTX refers to the physical form factor of a motherboard in the same way BTX, ATX, ITX and others refer to dimensions and thermal designs of motherboards. The DTX standard was initiated by AMD to assist in the adoption of SFF (small form factor) PCs while addressing the concerns of consumers and manufacturers. It comes as no surprise to most people that the demand for small form factor PCs is growing. More consumers are interested in small form factor PCs than in large full size towers for heat, energy, and space concerns. The trend is technology has always been more performance in a smaller space so this is really nothing different.
Where DTX differs from current small form factor standards is its approach. AMD decided that since the demand for SFF was growing it had the opportunity to get into this market and took a close look at current SFF standards. The issue with current SFF standards is that there is an overwhelming lack of support for hardware. To really have a product that will sell properly to those interested in SFF PCs AMD would have to implement features normally found in larger computer systems. Features such as PCI-E and a large manufacturer support base. Usually if enough manufacturers dedicate product lines to a product there is both availability and low price for that particular product. This results in sales which is what AMD and the manufacturers are of course interested in.
Lets take a look at DTX.
DTX is intended as we mentioned for the small form factor systems similar to the current ITX. The full DTX standard calls for a number of design compliant features such as:
DTX motherboards fit in ATX chassis
DTX motherboards share common mounting holes
DTX motherboards target 65w/45w/35w CPUs
DTX motherboars feature two add in slots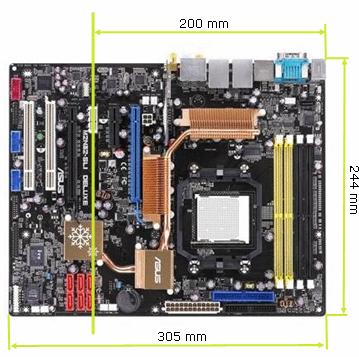 Additional standards such as Mini-DTX have been created calling for lower power consumption, lower heat output and specifications intended to create a standard chassis for ITX motherboards. Interoperability seems to be key with DTX as AMD seems to be looking to fill a need in the market that is currently left void by lack of support hardware for ITX. ITX systems are most often sold as entire systems and DTX will enable system integrators to find off the shelf parts to built DTX SFF systems thus offering a much more customizable solution.