Review - EPoX 4G4A+ Intel 845G Motherboard
Techware Labs gratefully recognizes EPoX's support in making this review possible!
Review by Edward Chang, call sign: Big_E
July 26, 2002

Introduction:
The progress of computer technology is non-stop. New features like USB 2.0, DDR333 support, RAID, support for 533 Intel Pentium 4 processors, and among others, are in high demand. In addition, more and more devices are being integrated into an all-in-one motherboard. Take EPoX's new 4G4A+ Intel 845G-based motherboard; it supports all the new functions listed above, while also integrating 10/100 Realtek Ethernet, an impressive Intel Brookdale graphics chipset, and onboard 6-channel digital audio. Surprisingly, this motherboard also works with EPoX's latest Bluetooth header (that comes bundled only with current EPoX 4BEAV motherboards). Essentially, EPoX takes all the useful features one would ever need and combines them into one awesome entity: the EP-4G4A+.
About the Company:
Over time, the EPoX brand name has become synonymous with quality and performance motherboards. In the past, EPoX produced countless motherboards, many of which were renown for its excellent build, unique features, and great performance. EPoX has used VIA motherboard chipsets for the longest time. VIA's more recent KT133 and KT266 family chipsets were incorporated into extremely popular EPoX mainboards, like the 8KTA+ and 8KHA+. EPoX also made many other excellent motherboards using AMD, SiS, and Intel chipsets as well. Today, Techware Labs will evaluate EPoX's 4G4A+ motherboard utilizing Intel's latest 845G Northbridge.
The Motherboard: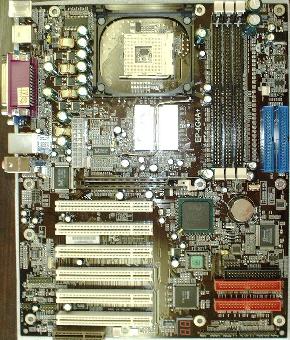 EPoX 4G4A+
(Click on image for close-up)
The most distinguishing aspect of the 4G4A+ is the black PCB. Seems like EPoX is jumping on the colored PCB bandwagon. One day, green will be a new color.
The EPoX 4G4A+ is a well designed motherboard. It has 11 Sanyo 3300 uF (micro-Farad) capacitors and three inductors around the CPU socket to ensure a clean electric signal. Similarly, two giant Teapo 4700 uF and smaller capacitors straddle the three 184-pin DDR memory slots.
The 4G4A+ has three visible yellow jumpers. One next to the Northbridge is for FSB selection. This jumper has the three following options: Default, 100 MHz, or 133 MHz. Another to the right of the USB1 and PS2 connectors allows the user to enable or disable a keyboard power on feature. The last clear-CMOS jumper is situated above the floppy connector. That's keeping it nice and simple!
In comparison to an Intel 845E-based motherboard our website tested recently, this EPoX motherboard has one additional memory slot. Unfortunately, that does not allow for more RAM support, as the Intel 845 series of chipsets will only allow up to 2-GB of DDR RAM or four memory banks. A double-sided stick of RAM takes up two banks. A single-sided one uses one bank. The use of two double-sided modules in two DIMM slots fills all four available banks. The EPoX manual included with the motherboard package clearly delineates on page 3-6 which memory configurations work.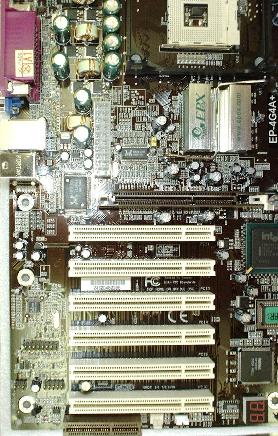 Few motherboards with integrated video chipsets have an AGP slot. EPoX considers that users may want to upgrade to faster video cards, and added a 4X AGP slot for their enjoyment.
Located left of the AGP slot is a RTL8100B chipset for Realtek LAN support.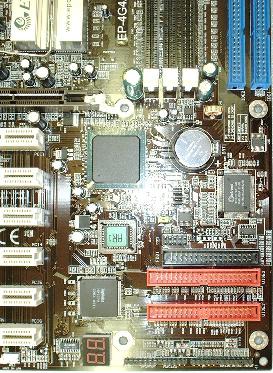 To the lower-right sector of the 4G4A+ is an Intel 82801DB Southbridge chipset, CMOS battery, Winbond W83627HF-AW I/O chip, the BIOS, FDD connector, RAID connectors (which can be used as two additional IDE connectors), a HighPoint HPT372 RAID controller, and EPoX debug LED.
EPoX also threw in a fairly useless Communication Network Riser (CNR) slot. However, OEMs really like this option since they, unlike the ordinary end-user, have access to CNR modems for cheap.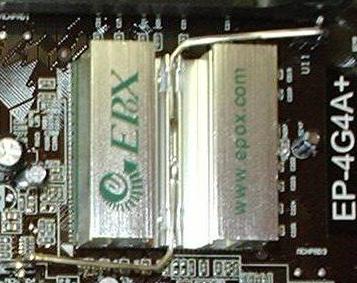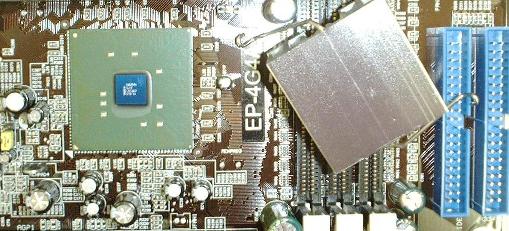 The Intel 82845G Northbridge is covered by a cosmetically re-designed EPoX-branded heat-sink, or heat-spreader rather. During tests, the heat-sink did get warm, but it was never too hot to touch. Moreover, there was an absence of thermal compound beneath the heat-sink, which reinforces claims that this Northbridge does not require an active cooling implementation. However, from an enthusiast's view, it is reassuring to see a fan cooling an overclocked Northbridge. Beneath the heat-sink is an Intel Northbridge that resembles a smaller-died FCPGA processor. The chip markings are like that of an Intel CPU too:
" RG82845G
SL66F
L215A822 "
The Intel 82845G Northbridge is a revision of the proven i845 chipset. also houses three important chipset components:
The Graphic Memory Controller Hub (GMCH) provides the interconnect between the DDR SDRAM and the system logic.
The I/O Controller Hub (ICH4) provides the I/O subsystem with access to the rest of the system. Additionally, it integrates many I/O functions, such as USB, Ultra ATA, LAN, etc.
The Firmware Hub (FWH) component is a key element to enabling a new security and manageability infrastructure for the PC platform. The device operates under the FWH interface and protocol. The hardware features of this device include a unique Random Number Generator (RNG), register-based locking, and hardware-based locking.
Now, let's take a look at the board's features.