Killer Notebooks Executioner-SR Ultimate Gaming Laptop
Killer Notebooks Executioner-SR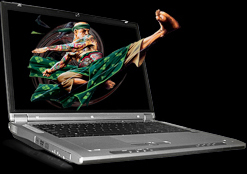 About Killer Notebooks:
We have done several reviews on Killer Notebook systems and have found each of their systems to be exceptional in terms of quality, performance, and value. When Killer Notebooks informed us that the Santa Rosa update to their Executioner was available we just had to take it for a test drive. Our original review of the Executioner can be found here for comparison. We were expecting nothing less than the best from the new Executioner-SR and had high hopes for increased performance. The new Executioner sports an entirely different look with more features and is based on the new Clevo M570RU for the technical minded. This model has support for MXM based video cards meaning your video card can be swapped out in the future if you want to upgrade, we are thinking 8800 mobile here.
If you have read our previous reviews you know that Killer Notebooks takes each system a step further and the Executioner-SR is no exception. They have modified the internal cpu heatsink giving it both more surface area, more fins, and a copper finish. The result is a laptop that runs games and heavy duty applications without breaking a sweat. We tested the Executioner-SR using 3DMark06 running in a loop for 4 hours and the laptop never experienced a glitch, in fact it never hit more than 121F during the entire testing with a room temperature of 79F. These results are measurements taken after 4 hours of benchmark loops. We took the bottom of the chassis off and measured the temperature at 7 different occasions directly on the video card and CPU. Weather these are hand picked cards and CPU's or just awesome modifications its clear that the Killer Notebook line lives up to its name. Our Alienware test system the M9700 crashed twice during testing and during gameplay it would lock up due to heat. We were forced to use a laptop cooler and directed air from a fan to keep it from shutting down. On the other hand the Executioner-SR seemed to take applications with ease and gameplay as normal use. We attirbute much of this level of performance to the extensive modifications that Killer Notebooks has performed on both the chassis and internals.
The system sent to us was configured as follows:
| | |
| --- | --- |
| CPU: | T7500, System was tested with an additional X7900 |
| RAM: | 2.0 GB DDR2 667 |
| Hard Drive: | 100GB 7200RPM |
| Screen: | 1920x1200 |
| Optical Drive: | 8X DVD-RW DL |
| Video Card: | 7950GTX 512MB |
| Options: | Bluetooth, 1.3MP Webcam, Biometric Fingerprint Reader, Media Card Reader, Hotkeys, Front Audio Ports, CATV, DVI Out, SVGA Out, Serial Port, 4 USB2.0 Ports, 1394 Firewire Port. |
As you can see from the specifications the Executioner-SR has nearly everything you could want in a laptop. It is important to note that the Executioner-SR does come with the option to have dual hard drives in a Raid configuration so long as you select an external optical drive. This option adds a small expense to the overall cost of this very high end laptop.
Make sure to check out the last page of our review where you can get a special free upgrade on your laptop from Killer Notebooks for mentioning our TechwareLabs review here.
Lets look at the performance of the new Executioner-SR and find out if it is a worthy replacement to the Executioner.