Vidabox Premium Wireless Keyboard with Laser Mouse
Vidabox Premium Wireless Keyboard with Laser Mouse

Introduction:
Wireless keyboards and mice are starting to become more popular as time progress. It used to be a major concern that there was a small lag between when you physically moved the mouse and the cursor actually moving. Now-a-days this concern may still exist but has been improved upon to reduce this lag drastically.
As media center PCs are becoming more and more popular, the need for a nice universal wireless keyboard and mouse is becoming more necessary. Being able to sit at your couch and able to control your PC without a cluster of wires allows you to use your computer in comfort. But the biggest problem is to find a nice keyboard for Media Center use, as most wireless keyboard / mice are aimed towards desktop users. Vidabox has introduced their Premium Wireless Keyboard with Laser Mouse to confront the issue of hard to find media center keyboards. It offers special features like a built in mouse, a fully functional and full sized keyboard, and a unique design for comfort on your lap or in your hands.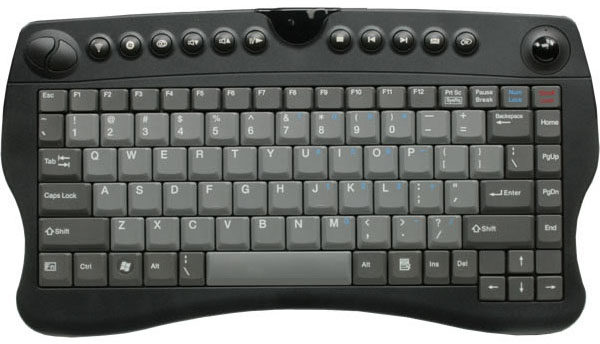 Vidabox's Take:
This premium wireless keyboard comes standard all of our VidaBox™ media center systems. With a 30-foot range and small size, it's easy to check your email, type up a paper, work on a spreadsheet, or simply surf the web from the comfort of your couch.
With its laser trackball, everything from navigating the web to playing games becomes a breeze! Smooth and maintenance-free, the laser trackball provides 2000 dpi of resolution for precise, accurate control!
Unlike other conventional infrared (IR) and radio frequency (RF) wireless keyboards, special high frequency wireless technology allows a pronounced increase in performance - with a minimum in dropped signals and "dead zones." No more frustrations with non-working keyboards!
This wireless keyboard with trackball has an auto-shutoff feature to help conserve battery life, allowing a standby time of up 6 months without changing the battery. It comes with a anti-dust cloth sack for storage.
This product comes with its own high frequency USB receiver, and comes packaged with everything you need to get started!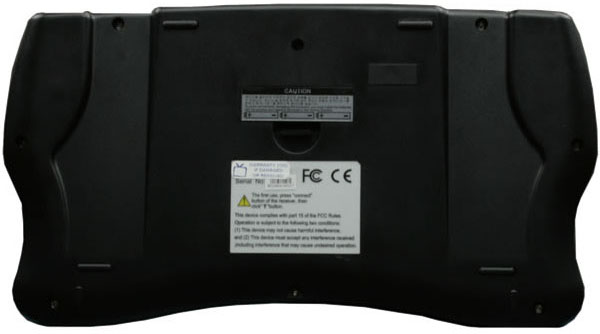 Specifications:
30-foot (10m) wireless range
Compact form factor with integrated 2000 dpi laser trackball pointing device and mouse buttons
Auto-shutoff feature preserves battery life
Requires 3 AA batteries (alkaline or rechargeable - included)
Battery Life: Six (6) month stand-by time
High performance, high frequency wireless allows minimal dropped signals/dead zones
Premium anti-dust keyboard pouch included
Dimensions: 12.83" x 5.04" x .97" (326mm x 128mm x 24.72mm)
Weight: 1.13lbs (512 grams)
REALTIME PRICING ON WIRELESS KEYBOARDS