Adesso WKB-3000UB Wireless Trackball Keyboard
Adesso WKB-3000UB Wireless Trackball Keyboard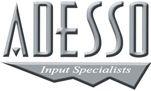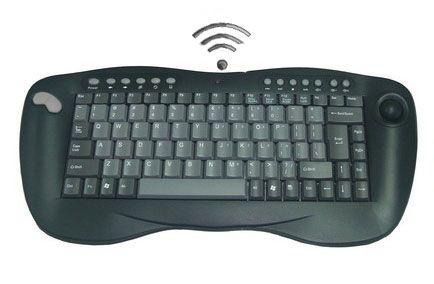 You're laying in bed watching TV and your computer beeps, telling you there is a new unread email message. You're relaxed, you don't want to get out of bed, but you do want to check your email don't you? Well why not pick up Adesso's new WKB-3000UB trackball keyboard and check your email from bed!
What's in the box?
| | |
| --- | --- |
| | |
| Unopened Box | Contents |
Inside the box we find the WKB-3000UB, four batteries, a user's manual, and the USB dongle. The keyboard and other devices are located inside of an inner box, where the contents are safely secured to protect from damage.
Features:
Streamlined full-featured RF keyboard built-in 27mm Track Ball, with Optical Technology
2.4 GHz radio frequency, 100 feet effective working range, USB port
360-degree navigation, sleek and elegant design.
With notebook keyboard module enables handheld operation and effortless typing.
8 different frequencies with 65536 IDs per channel.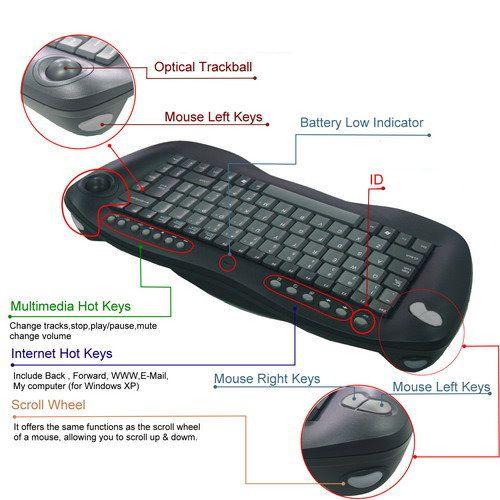 Specifications and Compatibility:

Frequency:
2.4GHz RF
Channel:
8 different frequencies with 65536 IDs per channel.
Standby Mode:
after 8 minutes
Power:
Uses 4-AA Batteries for up to 3 months use.
Hot Keys :
WWW
WWW-Stop
WWW-Refresh
WWW-Search
Pre-Page
Next-Page
Volume-Up
Volume-Down
Mute
E-Mail
Suspend
My- Favorite
Trackball Resolution :
Optical Type, 800 DPI
Trackball Size:
27 mm
Keyboard:
385 mm x 178 mm x 50 mm (15.1" x 7" x 1.9")
Receiver :
78mm x 21.5mm x 10mm (3" x 0.8" x 0.39")
Compatibility:
Windows Vista, XP, 2000, ME, 98SE
Testing:
Once the WKB-3000UB is removed from the package, the four AA batteries are inserted. With your computer turned off, insert the USB dongle.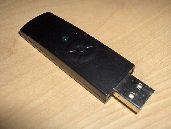 The computer should then be turned on, and the keyboard drivers will be automatically loaded. The keyboard has many hot keys, including sound control, internet, email, stand-by, and internet navigation. The keypad is slightly harder to push than expected. This ranged between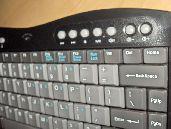 I've tried wireless trackball keyboards in the past and did not like them. This was because the ball was on one side, and the mouse buttons were located in a completely different side of the keyboard. It was awkward to get used to, and it resulted in me selling it. The WKB-3000UB has a great feature in this sense - the left-click mouse button is located just below the trackball, which is very similar to a mouse. On the left side, both mouse buttons are located on the top, and mouse scroll wheel is located on the back.
| | |
| --- | --- |
| | |
| Trackball side | Mouse button side |
We tested the keyboard from across the room. At a distance of 10-15 feet, there was no lag in the mouse, and no noticeable difference whatsoever.
Conclusion:
If you need a wireless trackball keyboard, this is the best option for the standard consumer. With its convenient placing of the mouse buttons and scroll wheel, it's very easy to use. While the keyboard keys are slightly hard to press, it's very easy to deal with in the comparison of things. The Adesso WKB-3000UB wireless trackball keyboard for ~$55.90 from Mwave.com