Art Lebedev Interview and Video of the Optimus Maximus In Action
Art Lebedev Interview
Maxiumus Impact
The Maximus keyboard by Art Lebedev has been eye candy for tech geeks the world over. The Optimus Maximus, in case you have been living under a rock, is the worlds first keyboard where each key is a full color 45x45 pixel display capable of moving images. When we saw Artemy Lebedev himself at a booth here in CES we had to sit down and take a first hand look at this king of keyboards.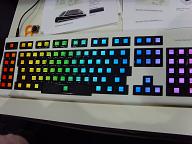 SO we can look forward to a mini-three that is wireless and maybe touch interface. The newly announced Tactus should be a revolution in keyboard interface when it becomes available. It could also be a revolution in pricing of keyboards as well judging by the price of the Maximus.
We did manage to pick up one of the amazing Optimus mini three keyboards and will have a review of it soon for you.