AMD Socket 939 4000+ and FX55
Review by Jason Jacobs on 10/19/04
Processor Provided by AMD


AMD's Socket 939
As most are aware AMD launched its Socket 939 processor line a short while ago. This article will cover AMD's latest offering to the Socket 939 line, the 4000+ and the FX 55. The socket 939 processors offered a dynamic increase in productivity and computing power over anything the market currently offered. Additionally the 939 processors are 64 bit compatible and offered a clear upgrade path should Microsoft ever release its 64 bit operating system and 64 bit programs become widely available. Initially the Socket 939 made its debut in performance ratings, the 3800+ and the 3500+.
The 4000+ represents a definite status symbol for AMD as at this point in time Intel has no corresponding 4Ghz part. This fact becomes even more evident in the light of the recent announcement by Intel that it is canceling its 4Ghz part development. When AMD was asked about their performance ratings they responded that the ratings are independent of Intel parts and are rated based upon a percentage increase (determined through testing) in performance over the previous part. Of course we all know that the marketing and PR departments at AMD must be having a field day with this launch. Does the 4000+ live up to its name? Further on we tested it to find out.
Lets take a look at the two new contenders on the block.
The AMD Socket 939 4000+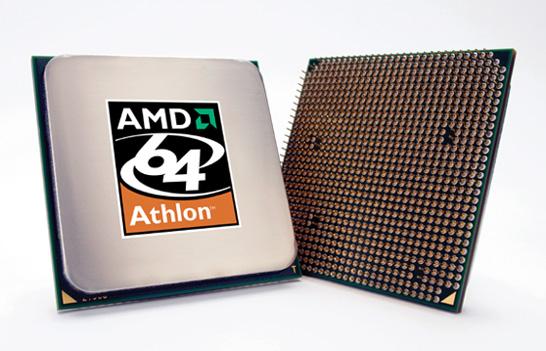 AMD ATHLON 64 4000+ TECH SPECS:
L1 Cache Size: 64KB data + 64KB instruction = 128KB Total
L2 Cache Size: 1MB (exclusive)
CPU Core Frequency: 2.40GHz
CPU to Memory Controller: 2.40GHz
Memory: Integrated 128-bit wide memory controller
Types of Memory: PC1600, PC2100, PC2700 and PC3200 DDR memory
HyperTransport Links: 1
HyperTransport Spec: 2GHz (2x 1000MHz / DDR)
Effective data bandwidth: Up to 14.4 GB/sec (8GB/sec
HyperTransport bandwidth plus 6.4GB/sec memory bandwidth)
Packaging: 939-pin organic micro-PGA
Fab location: AMD's Fab 30 wafer fabrication facility in Dresden, Germany
Process Technology: 130nm (.13-micron) Silicon on Insulator (SOI)
Approximate Transistor count: 105.9 million
Approximate Die Size: 193mm2
Nominal Voltage: 1.50 V
Max Ambient Case Temp: 70 degrees Celsius
Max Thermal Power: 89 W
Max Icc (processor current): 57.4A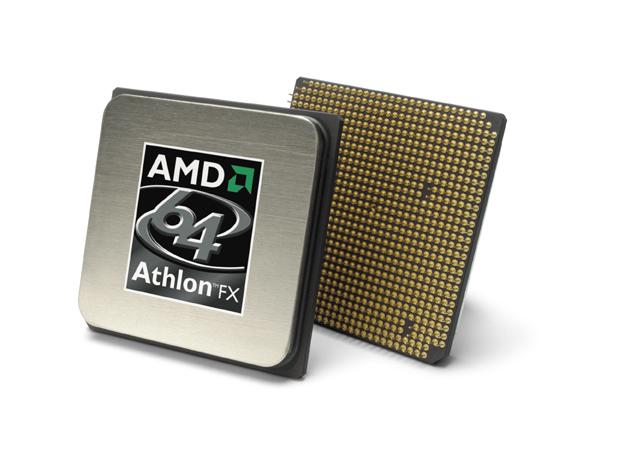 AMD ATHLON 64 FX55 TECH SPECS:
L1 Cache Size: 64KB data + 64KB instruction = 128KB Total
L2 Cache Size: 1MB (exclusive)
CPU Core Frequency: 2.60GHz
CPU to Memory Controller: 2.60GHz
Memory: Integrated 128-bit wide memory controller
Types of Memory: PC1600, PC2100, PC2700 and PC3200 DDR memory
HyperTransport Links: 1
HyperTransport Spec: 2GHz (2x 1000MHz / DDR)
Effective data bandwidth: Up to 14.4 GB/sec (8GB/sec
HyperTransport bandwidth plus 6.4GB/sec memory bandwidth)
Packaging: 939-pin organic micro-PGA
Fab location: AMD's Fab 30 wafer fabrication facility in Dresden, Germany
Process Technology: 130nm (.13-micron) Silicon on Insulator (SOI)
Approximate Transistor count: 105.9 million
Approximate Die Size: 193mm2
Nominal Voltage: 1.50 V
Max Ambient Case Temp: 63 degrees Celsius
Max Thermal Power: 104 W
Max Icc (processor current): 80A