HP SimpleSave Photo Disks
HP SimpleSave Photo Disks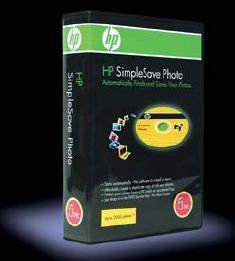 Introduction
If you've ever had a hard drive crash on you before, you'll understand the importance of having a backup copy of all your important data. The problem with most backup schemes is that they require either too much effort or too much technical know-how for users. After all, a hard drive is very unlikely to fail in its first 4 years, long enough for most people to neglect their data back up schemes.
HP attempts to address this problem with packs of 5 DVDs, called SimpleSave Photo, that are capable of automatically burning your pictures and movies to them, moving them from unstable hard disk drives and placing them on an optical medium. In their product, SimpleSave Photo, HP addresses both of the major problems with data recovery mechanisms. The disc is easy to do and practically runs itself, requiring less effort than running a disk defragmentation. In addition no computer knowledge is required; if you have figured out how to put photos and movies onto your computer you're more than qualified to use this product.
Note that this product does require you to have a DVD burner.
Picture of packaging (click for larger image).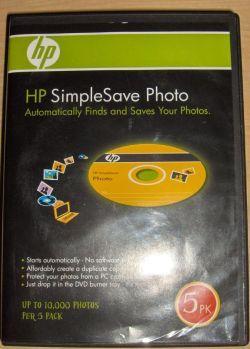 Picture of what each disc looks like (click for larger image).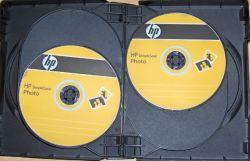 Here's how Windows sees the discs post-burn (click for larger image).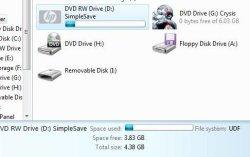 Specifications
| | |
| --- | --- |
| Supported Operating Systems | Windows 2000, Windows XP, Windows Vista |
| Photo File Extensions | bay, bmq, cam, cex, cmp, cr2, crw, cs1, dcr, dng, j2c, j2k, j6i, jfi, jfif, jif, jp2, jpe, jpeg, jpg, jpx, k25, kdc, kqp, mdc, mrw, nef, orf, pef, pmp, raf, rdc, raw, srf, thm, x3f. |
| Video File Extensions | .3g2, 3gp, 3gp2, 3gpp, amc, asf, asx, avi, cin, dv, dvr-ms, flc, ivf, m15, m1v, m2p, m2v, m4e, m4v, m75, mov, mp4, mpe, mpeg, mpg, mpm, mpv, mswmm, nsv, ogm, qt, qtl, qts, rm, rmvb, rp, rt, rts, rtsp, rv, sdv, smi, smil, sml, ssm, swf, vfw, wm, wmd, wmv, wmx, wvx, xmz. |
| Disc Size | 4.38 GB |
| Number of Discs | 5 |
| Total Storage (Aprox.) | 21 GB |
| File System | Universal Disc Format |
| File Structure Preserved | Yes |
The spash screen as the software starts up.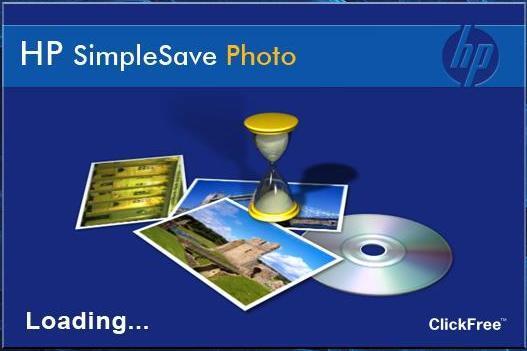 Real Time Pricing: