Sans Digital MobileSTOR RAID Enclosure (MS2UTN+)
Sans Digital MobileSTOR RAID Enclosure (MS2UTN+)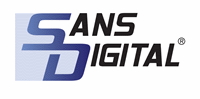 Introduction
If you have stumbled upon this page, whether it be by researching RAID enclosures or you are a regular visitor to the stimulating and zany world we affectionately call TechwareLabs, it is my assumption you know what RAID is and you are familiar with its capabilities compared to a standard hard drive. But let's say you do not want to bother with setting up a RAID system in your computer, or you need your RAID setup to be transportable, or are otherwise inexperienced in how to set it up. Behold, for I bestow upon you the Sans Digital MobileSTOR RAID Enclosure. This is a portable two-bay SATA enclosure that is capable of operating in JBOD (just a bunch of disks) mode, striping, mirroring, or a combination of striping and mirroring by automatically partitioning the hard drives.
This product is sold either in silver or black, as well as a variety of choices in regards to included hard drives, whether you want as much as 2TB of physical space, or if you only want the enclosure so you can insert your own hard drives. In this case, they sent me the enclosure absent of hard drives.
Observation
I see a well-packaged product, and it seems appealing thus far. I undo the packaging, finding the enclosure well protected for shipping, with all accessories enclosed in a separate box.
| | |
| --- | --- |
| | |
| Front of package | Back of package |
Unpacking

Contents removed
Upon gazing at my new toy, now naked, I find a metallic casing with a slick silvery shine. There are two hard drive bays, which automatically lock, and are unlockable by using the included keys, which are essentially blunt, plastic toothpicks. Each bay has a little LED light, which provide an indication of the status of the hard drive inside (if applicable), and the device itself has its own status lights. The reverse side has a fan, power, USB and eSATA ports (also note that a way to convert SATA to eSATA is included), in addition to the RAID toggle. The included CD may or may not show up in your package, as it appears to be a limited offer where a third-party backup software is included at no extra charge, marked only on the box and I will not discuss it in this review.
| | | |
| --- | --- | --- |
| | | |
| RAID Gone Wild (TM) | Front | Rear |
| | |
| --- | --- |
| | |
| Close-up of RAID configuration choices | Accessories |
Specifications (from product page)
| | |
| --- | --- |
| Form Factor | 2-Bay Enclosure |
| HDD Trays | 2 Hot-Swappable 3.5" |
| RAID Level | Big (Spanning), Safe (RAID1), Fast (RAID 0), JBOD, SAFE33, & SAFE50 |
| Maximum Capacity | 2TB |
| Auto Rebuilding | Yes |
| Hot-Spare | N/A |
| Host Interface & Transfer Rate | USB 2.0 (480Mbps) & eSATA (3.0Gbps) |
| Drive Interface | SATA I / SATA II |
| Cooling Fan | 1.6" Ball Bearing |
| Power Supply | 80W (110V~240V) |
| Control Interface | N/A |
| Status Indicators | RAID Alarm, Fan / Temperature, Power LEDs |
| Dimension (in) | 4.8"W x 8.0"D x 4.0"H |
| Weight (lb) | 3.8 |
| Safety Regulations | CE, FCC, UL, RoHS |
| Limited Warranty | 1 Years |
REAL TIME PRICING ON THE WESTERN DIGITAL 150GB RAPTOR'S USED IN THIS REVIEW