OCZ Rally 2GB Dual-Channel Flash Drive
OCZ Rally 2GB Dual-Channel Flash Drive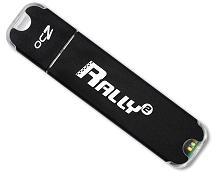 OCZ has a new heavy hitter in town - the 2GB Rally2 Dual Channel Flash drive. Available in virtually any size in a compact design, this flash drive with a lifetime warranty is sure to make the top of the charts in flash drive history.
OCZ's Description:
"The OCZ USB 2.0 Rally2 Flash Drive is the sleeker and more ergonomic version of the original Rally. The redesigned Rally2 features a more stylish housing accompanied by a new signature OCZ ultra-bright orange status LED and still houses the renowned OCZ dual channel technology that made the first Rally the choice flash drive among enthusiasts. Thanks to the implementation of leading edge Dual Channel technology, the Rally2 puts data transferring in the fast lane and leaves the competitors in the dust.
Pick up the pace and transfer your music, pictures, videos, and data to your laptop or desktop in record time or simply "Plug and Play" them instantaneously from the convenience of any USB port. The Rally2 Drive excels when managing a wide range of media, and is optimized to more rapidly transfer today's larger (5MB and up) files.
The ultra durable OCZ Rally2 stores vital documents, presentations, images, music and more in an ultra sleek pocket-size drive, so you can access your files without having to disconnect other USB ports to make room, a common problem with many oversized competitor drives.
The incredible OCZ Rally2 Flash drive is designed to be the fastest most reliable USB flash memory drive on the market, and makes use of cutting edge technology and comes backed with a limited lifetime warranty for the ultimate peace of mind."
Specifications:
High Speed USB 2.0 Certified
True Plug and Play (Compatible with MAC OS X)
Dual Channel Technology
Available in 512MB, 1GB, 2GB, 4GB and 8GB capacities
Dimensions: 2 5/8"(L) x 5/8"(W)
Aluminum Chassis
Orange LED Status Light
Lifetime Warranty
Lanyard and USB extension cable included
Gallery: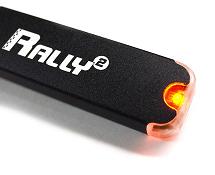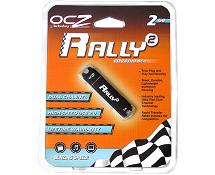 Testing:
Folders of pictures of the same size were built and used to test the speeds of the 8GB Flash Survivor GT, 2GB OCZ Rally2, and a 2GB Kingmax.
| | | | | |
| --- | --- | --- | --- | --- |
| Capacity | 1.06MB | 279MB | 1.60GB | Price |
| Flash Survivor GT | ~1 second | 52 seconds | 2 minutes, 28 seconds | ~$154 |
| 2GB Kingmax | 4 seconds | 196 seconds | 11 minutes, 48 seconds | ~$10 |
| OCZ Rally2 | ~1 second | 190 seconds | 8 minutes, 34 seconds | ~$26 |
As you can see from the data above, the Flash Survivor did the best, followed by the OCZ Rally2, and finally, the 2GB Kingmax.
Conclusion:
Sadly, I don't think the OCZ Rally2 met the goals we hoped for. It's a common price (usually $10 per GB of RAM), for a common flash drive. We expected the Dual Channel Technology to increase the transfer rate greatly, but it did not seem to make much of a difference compared to the Kingmax drive. We are not saying this flash drive is bad, it is simply the same as any other standard flash drive we've seen on the market.