Rosewill 2.5 Inch External USB Enclosure and Mobile Rack
Rosewill 2.5 Inch External USB Enclosure and Mobile Rack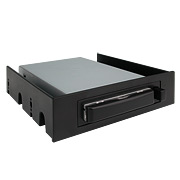 Introduction
If you are considering a portable drive for the ease and usefulness of a thumb drive and the storage capacity of standard hard drive, then Rosewill Inc. may have a unique product solution for you. The RX251-US is a unique product that serves as both an internal drive and an external drive at the same time. As you can see by the picture above, Rosewill inc has created an external 2.5" enclosure that additionally docks into a 5.25" bay and by doing so is accessible to your desktop.
The portable drive options on the market today range from any size IDE or SATA drive on the market shoe horned into a metal case with a cumbersome power supply which on some models is unique to the device. This means if the power-supply is ever lost, or broken you will have to seek a replacement from the manufacturer. Another option is the 2.5" drive market a.k.a. laptop hard drives in a small external enclosure. Most of the laptop drives are a little short on the storage capacity, but the benefits usually include no need for an external power supply that may get lost or broken not to mention the portability that a 2.5" drive affords. Almost all 2.5" drives are now available in SATA which have higher storage capacities than previous IDE drives.
This drive has all the features you would find with any other external 2.5" enclosure with, as we mentioned earlier, the additional capability provided by the mobile rack. Once installed into your desktop PC, the mobile rack serves as a quick dock for your 2.5" drive. Essentially what you now have is the capability to sync files, per form backups, and transfer data. All of this is accomplished without having to ever attach a single cable or reach around the rear of your PC. Those savvy users who think ahead can see that the Rosewill RX251-US also leaves open the potential to load the drive inside with automatically loading software to perform backups and other automated tasks simply by plugging in the device. How nice would it be to simply slide your external hard drive into the bay wait for the backup to complete, and walk away with your backup in your shirt pocket. With 2.5" drives offered in up to 320GB this becomes a real option for casual consumers to even small business owners.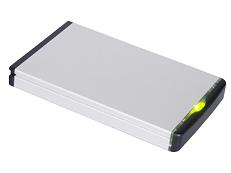 Shown above this the 2.5" drive case with its glowing LED.
Specifications
2.5" SATA hard driver external enclosure
Dual function:
Use as the portable enclosure and Insert into the desktop PC as the mobile rack function
Support SATAI/II to connect the desktop PC as a mobile rack function
Support USB2.0 to connect as a portable enclosure
Support Win2000/ME/XP/Vista ; Mac OS 9.x/10.x or above ;
Linux kernel after 2.4.1.0
Aluminum Casing Cools Down Your Hard Drive
Anti-Dust Cover
Compatibility with both PC and Mac systems
RoHS Compliancy: ROHS approved
LED Indicators for Power & HDD Activity
Addition Tray is available (RX251-STRAY)