ICY BOX IB-390 Series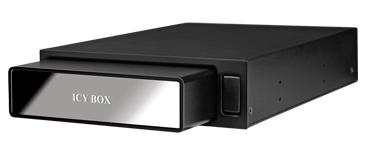 Introduction:
ICY BOX storage solutions has been developing some great products in the computer peripherals market since 1999. These range from portable drive cases to stand-alone storage solutions, such as NAS devices and solutions, which attach to your PC with ease. In this review, I will be reviewing ICY BOX's IB-390 Series 3.5" portable drive with docking station. So first lets take a look at the features and specifications, and then dive into what you get and what kind of performance you can expect.
Features:
External aluminum case for 3.5" SATA hard disk drive
- Support 3.5" SATA I/II hard disk drive
- Without capacity limit
- USB 2.0 & eSATA Combo interface
- Hot Plug & Play and Hot Swap
- Status LED for power and access
- Hard disk installation without additional tools
- Low noise, fan less design
- Vertical and horizontal usable
- ON/OFF switch at the rear side
- Additional SATA power connector for power supply
in 5.25" docking station (IB-351StUSD-B)
- 5.25" docking station for PC
- Scope of supply: IB-390StUS-B, power supply with
power cable, USB2.0 & eSATA cable, socket, key
and screw bag, 5.25" docking station
The IB-390 is very similar to the previously review ineo NA303US shown here. The IB-390 from ICY BOX comes with an all metal case to hold the SATA drive of the consumer's choice (hard drive not included). Included with the IB-390 are a USB 2.0 cable and an eSATA cable for connecting the device to any computer. Just like the NA303US, the IB-390 also comes with a docking station which is mounted in a 5.25" drive bay in your PC. Of the two products, I prefered the IB-390's design for the docking station which has a handle used to unseat the drive case from the docking station where the ineo has a pressure clip, made out of a cheaper plastic, which looks like it would break over time or if it were abused.
REALTIME PRICING