InCoder Slim Metal Combo Drive
24X-R / 10X-RW / 24X-RW / 8X-DVD
Reviewed by Shadrach 7.21.2003
A very special thanks to Incoder for supplying this combo drive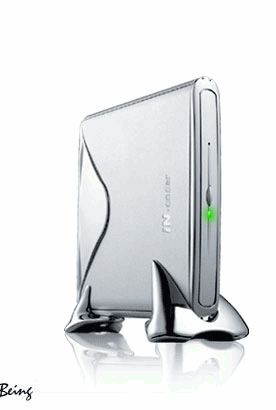 Case Specifications:
Dimension WxLxH ( mm )
With Foot-Stands / Without Foot-Stands
66x166x156 / 144x153x23

Weight ( Kg )
With Foot-Stands / Without Foot-Stands
855g / 526 g

Power supply
DC 5V,2A

Supported OS
WindowsME
WindowsXP
Windows2000
*Windows 98SE,
**MAC OS 9.0 & after

*Need to install device driver.
**Mac only by 1394 interface.

INcoder's brand-new portable storage Combo drives (CD-Rewriters/ DVD-Rom) right now are available. Burn your 650Mb/ 74min CDs faster and better with buffer under run Botect technology (Just Link). Easy Plug and play function while you connect these drives to Laptop (Notebook) and desktop PC.
Main Features
Portable
Hot swapping and plug & play
Accommodates CD-ROM/CD-R/CD-RW/DVD-ROM/COMBO
Well-executed styling design
Easy installation on PC and Mac.
Vertical and Horizontal Mounting Available
Anti-Toppling Foot-stands for Stable Vertical Burning
Stylish metallic design
Initial Thoughts:
This is no ordinary CD burner. It may just be a laptop drive in a nice shell, but it's a damn nice shell that is put together splendidly. Design is impeccable with solid, substantial feet that mount nice and tight to keep this unit fully upright. The slimline incoder won't lay down until you tell it too, and when it does, it has a thin silicon anti-vibration pad to keep it nice and comfy. So, take it with you if you need your burner on the go. USB and FireWire cables are supplied so you can even impress you MAC friends or enemies.
Even the power plug was nicely designed to take up only one slot on the end of your power strip or wall plug. Everything is very well thought out with regards to design. Plugs are kept small, cables are thin and manageable. Cables are lengthy enough to reach under desks and short enough to fit in the palm of your hand when bundled.