EVGA e-GeForce 7800 GTX 512MB




| | |
| --- | --- |
| Author: | Edward Chang |
| Date: | 2005.11.14 |
| Topic: | Video |
| Provider: | EVGA |
| Manufacturer: | EVGA |








The race for the performance crown between ATI and Nvidia almost seems like the fable about the Tortoise and the Hare. For the past 4 months, the Hare (Nvidia) has been taking a relaxing nap and reaping in the profits since it raised the bar with its GeForce 7800 GTX in June. Now, just as the Tortoise (ATI) catches up to the Hare riding on its new 512MB Radeon X1800 XT, the Hare awakens and revs up its own 512MB response: the GeForce 7800 GTX 512MB.
The Contenders: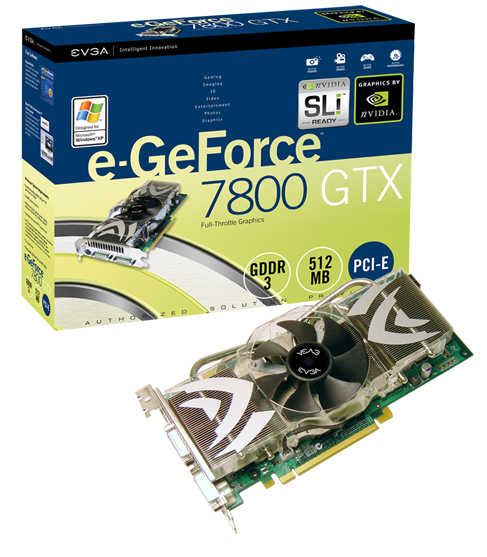 This year, Nvidia is early in releasing their "refresh" chipset. This is understandable since ATI has finally made available their long awaited flagship Radeon X1800 XT, which can beat the 7800 GTX in a game or two like Splinter Cell. However, if you were Nvidia, would you let this one fly? I guess not.
Frankly, Nvidia should have come up with a cooler sounding name than the "7800 GTX 512MB" because it sounds like all we are getting is a 7800GTX with 512MB memory right? Well, we will see that there is more in a name. EVGA's e-GeForce 7800 GTX 512MB (P/N: 512-P2-N545-AX) is based on Nvidia's 7800 GTX 512MB chipset. The EVGA video card is equipped with the same 24 pipelines and 8 vertex shaders found on the standard 7800 GTX, but comes with a significantly faster core/memory clock speed of 550MHz/1700MHz respectively and 512MB of GDDR3 memory. Thus, the 7800 GTX 512MB is basically an insanely faster EVGA GeForce 7800 GTX 256MB with double the memory capacity. The EVGA card's core is clocked 100 MHz higher than stock and the memory went up by whopping 500 MHz DDR. However specification wise, the N545 memory might have a +200 MHz edge over ATI's X1800 XT, but the core is at a -75 MHz disadvantage.
About EVGA:

Founded in 1999, EVGA has grown exponentially in the channel and became the #1 Nvidia Channel Partner in 2004. EVGA provides to system builders, distributors, and retailers video products that offer the highest quality and customer satisfaction, thereby making the computing experience transparent to the hardware in the box. EVGA only offers visual processing products based on NVIDIA chipsets and in year 2005 expanded its product line to include Nvidia NForce motherboards. Recently, EVGA has delivered the fastest and coolest GeForce 7800 GT CO and GTX KO video cards through their EVTweak initiative that supports the gamers, the tweakers, and the people who want to tweak and customize their video graphics experience. EVGA stands behind their top products with the industry's best Lifetime Warranty and 24/7 Telephone Technical Support. For further information, please visit EVGA online at www.evga.com.