Review - FIC A95P Radeon 9500 Pro 128 MB
Review by Edward Chang, call sign: Big_E
May 12, 2003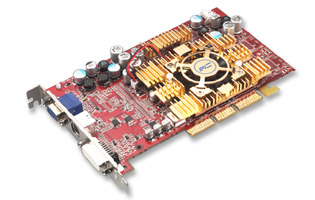 Introduction:
The advent of the ATI Radeon 9700 propelled ATI into their current state of close competition with their adversary Nvidia. With initial retail prices of up to $400, the Radeon 9700 offered the fastest 3D gaming performance. However, ATI left a void in their product line. At the time, a step down from the Radeon 9700 was the Radeon 8500 and Radeon 9000: mainstream DirectX 8.1 video cards for the sub-$100 market. Therefore, we see that ATI had no video card offering in the middle ($150 ~ $250). Nvidia just happened to be in this neighborhood, as their GeForce4 TI family of cards fit in this niche perfectly. This has all changed now with the introduction of the ATI Radeon 9500 and Radeon 9500 Pro.
Stepping up to the plate, the ever-diversifying FIC bears a Radeon 9500 of their own. The FIC A95P Radeon 9500 Pro helps ATI fill the abovementioned gap and compete inch-for-inch against Nvidia's GeForce4 TI line of video cards.
FIC's Radeon A95P brings the world of video game to life! Featuring incredibly fast 3D graphics performace, sophisticated real-time visual effects, the A95P provides the most powerful graphics acceleration for mainstream gamers.
VPU

-ATI Radeon 9500 Pro

Core/Memory clock

-275 MHz

Advanced 3D Features

-Smartshade
-Smoothvision
-Hyper Z III
-Truform
-Videoshader

Memory Type

-128 MB DDR

Bus Type

-AGP 8x or 4x compatible
Display Support

-VGA Connector
-TV-out
-DVI-I

Maximum 3D Resolution

-2048 x 1536 x 75Hz

OS Support

-Windows ME
-Windows 2000
-Windows XP

Bundled Software

-CyberLink PowerDVD 4.0
History

First International Computer, Inc. (FIC), founded in 1980, is one of the world's leading companies in the design and production of mainboards, PC systems, servers, and notebooks. FIC has experienced a 15% growth in worldwide sales revenues, up to US$2.7 billion. The company has nine branch offices, eight manufacturing and assembly sites (with 202,706 sq. meters of manufacturing capacity), and more than 4,500 employees worldwide. FIC is extremely flexible, firmly established in OEM/ODM and distribution markets, and a leading supplier of many of the industry's most respected PC brand names. FIC also offers a comprehensive range of mainboards under the 1stMainboard brand name, for the distribution market.
Let's take a look at the card.