Forsa Geforce FX 5600
Review by Jason Jacobs on 2.17.04
Graphics Card Provided by Forsa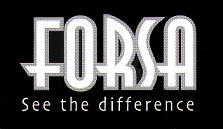 Introduction:
Techwarelabs is pleased to have recently had the Forsa FX5600 in the labs for testing. At the time of this article the big two manufacturers in the Video card market are Nvidia and ATI. Both compete for market share in a neverending production of video cards. A consumer is easily lost in this battle for which card to buy, where a card produced two months ago is no longer at the high end. In truth the consumer rarely needs a high end video card to still see appreciable gains in performance and have access to features available on high end cards.
Video Cards features are often among the following list:
Bundled Software
Connection interfaces
Internal support and chipset
Core Speed
Memory Speed
Cooling
Memory type
This is only a small listing of features that are specified. The Forsa FX5600 is considered a middle to low end budget video card with a current pricing of approximately $90 - 120. This places it within a very affordable range for the consumer that desires 3D performance without breaking the bank.
NVIDIA GeForce FX 5600
Graphic Core : 256-bit
- Core Speed : 325MHz
- Memory Configuration : 128-bit 128MB / 256MB DDR
- Memory Speed : 550 MHz
- Memory Bandwidth (GB/Sec) : 8.8
- Bus Interface : AGP 8X
- Pixels per clock (peak) : 4
- Veticles/sec. : 81 million
- Fill Rate : 1.3 billion
- RAMIDACs (MHz) : 400
- Max Resolution : 2048x1536 @ 75Hz
- Monitor Support , Analog Monitor , HDB-15 connector , TV-out, S-Video , Digital Flat Pane l, DVI-I

Those with a keen eye will note that the 5600 is AGP 8x, with a max resolution higher than most monitors support, and several interfaces available. For those with LCD displays, this card even comes with a DVI-I output.
Lets take a closer look
Shopping Matches for Forsa FX5600: