Palit GTX 280 SLI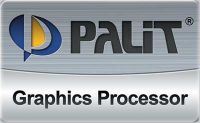 Introduction:
The latest graphics card released by nVidia was the nVidia 200 series.  I know you are probably thinking, "That the nVidia 9000 series was just released", and to answer that, yes it was.  The nVidia 9000 series graphics cards were only out for less than three months before the release of the new 200 series.  Palit among other graphic card companies have released their own versions of the card, but today we get to take a look at Palit's nVidia GTX 280. We get to take it and not only test the video card alone, but we are also going to take TWO of these cards and throw them in SLI in hopes to finally play Crysis on maxed out setttings.
So you may be thinking "Why was there only a three month period between the release of the video cards, what makes the nVidia 200 series so special that they just had to release it as soon as they could?"  Well the nVidia 200 series GPU is constructed of 1.4 billion transistors, 240 processors running in parallel, and has 933 gigaflops of processing power.  Just to give you an idea of how powerful this is, most of the higher end quad core processors on the market today only have a maximum of 100 gigaflops of computing power.  This is nearly TEN TIMES the computing power as some of the high end processors.  Which now you must be thinking, man I bet this card really kicks some ass in video games, which we will see later on.  But the thing that makes the nVidia 200 series stand out among all other video cards on the market today is that nVidia added a special feature which I will talk about a little later, so keep on reading :).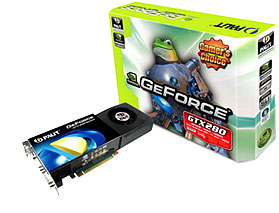 Palit's Take:
Palit Microsystems, leading graphics card manufacturer, announced the GeForce® GTX 280 and GTX 260 with the 2nd generation unified architecture and NVIDIA's new GPU PhysX™ technology, allowing users to experience convincing facial animation, multiple ultra-high polygon characters in complex environments, and fully simulated physical effects such as weather and explosions to delivering a truly immersive and dynamic 3D gaming experience.
Palit GeForce® GTX 280 features 240 stream processors with a 602MHz core clock, 1296MHz shader clock and high capacity 1GB of 512bit, 2214MHz GDDR3 memory. The Palit GeForce GTX 200 series products support 2nd generation NVIDIA® Unified Architecture, providing 50% more gaming performance over the 1st generation. Moreover, NVIDIA CUDA™ technology unlocks the power of the GPU's processor cores to accelerate the most demanding system tasks and increasing performance up to 7X over traditional CPUs.
Are you ready to get pulled further into the gaming experience than ever before? With Palit GeForce® GTX 280 and GTX 260, games including Unreal Tournament® 3, Assassin's Creed™, Call of Duty® 4: Modern Warfare™ and S.T.A.L.K.E.R.: Clear Sky are turning to the real thing. With 50% better performance than previous generation graphics processors, there is no lag, no dropped frames, and no compromise.
- Palit