SuperSpeed USB 3.0 INEO I-NA309D Pro
INEO brings to a USB 3.0 SuperSpeed SATA hard disk drive enclosure for not one, but two 3.5" drives. With each drive supported up to two terabytes of data (2 TB). But wait, there's more: INEO included with this enclosure the ability to choose to view both drives independently, or as one larger drive with Fast (RAID 0), or one smaller drive with Safe (RAID 1) settings. This enclosure can currently be purchased for only $84.99 and useful for someone looking for a USB-based backup for their data.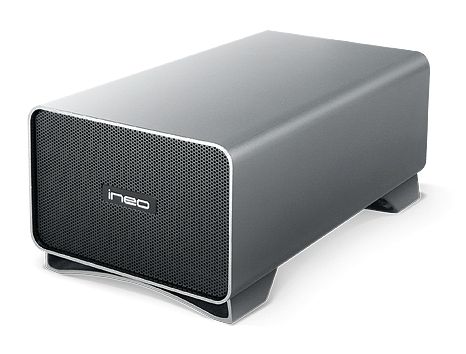 INEO SuperSpeed USE 3.0 to SATA Dual Bay RAID Enclosure
If you have ever used a USB 2.0 hard drive enclosure before you might have noticed the drastic dip between transferring data via USB 2.0 versus having it directly plugged into your motherboard. USB 3.0 really makes a drastic difference in those transfer speeds. Let's take a quick look at the specifications, features, and requirements and then we'll see what this baby can do with two SATA drives.
Closer Look:






Front
Back

Features:


Specifications:


Aluminum Alloy Casing with powerful fan provides excellent cooling
Blue and red LED illuminated Panel indicates power and hard disk drive activity
USB 3.0 Transfer rate up to amazing 5 Gbps
Fully compatible with 3.5" SATA I/II Hard Disk Drives
Truly Plug and Play
Support Single, Fast (RAID 0), Safe (RAID 1) Options
High performance data movement
Automated system rebuilds support offline for hard drive disk failure

Support 3.5" SATA I/II Hard Disk Drives
Support Plug & Play
Support HDD Capacity up to 4 TB (2 TB x 2)
Powerful FAN 4×4 cm
External Power Adapter
Windows 2000/Mac 9.1/Linux for USB 2.0
Windows XP/Vista/7 for USB 3.0

Features Explained:

As you can see, INEO lists some impressive information here. Yet, I want to make a note that while they mention USB 3.0 can attain transfer rates of up to 5 Gbps you will most likely average around 3 Gbps since the drives are limited to up to SATA II. When it mentions Plug and Play it means you would still need to initially format your hard disk drives, but it is recognized by both Windows and Mac Operating Systems within moments of plugging it in. Some of you might be wondering what Single, Fast, and Safe mean for options. Well, Single is a setting that should show two independent hard disk drives whenever you plug the enclosure into your computer. Fast, also known as RAID 0, takes the smaller of the drives and then doubles its' storage capacity and only displays the one larger virtual drive. Safe, also known as RAID 1) will only work if both drives are the same size and will only show you one drive. What do they mean though?
The Single setting is just as if you were using two separate hard disk drives and can save data to either as distinct entities so any data you choose to store on one drive is completely separated from the data you decide to store on the other. Fast combines both drives into an amalgam that stores data where it can on either drive as convenient. It is great for transfer rates, but if one drive goes bad both become useless since there is no redundancy. Safe uses one drive as an exact mirror image of the other providing you with a copy of absolutely everything, which means if one drive goes bad than you did not just lose everything.
| | | | |
| --- | --- | --- | --- |
| | | | |

Packaging:

The packaging is nice, showing you the exterior of the enclosure at several angles and providing a nice description of the features, specifications, and a brief overview of the settings (Single, Fast, and Safe). Inside the box everything is encased in a semi-hard plastic container.
Included inside are:
Enclosure
Power Adapter
Power Cable
USB 3.0 Cable
CD-ROM with Drivers
10 Screws, 8 needed for mounts and 2 spare
User Guide