Lean, mean, green machine:
Whats big fast and green? No, its not some new super hero, but a it is a super switch. More specifically a new 24 port green switch. While the color itself is black the new TE100-S24g switch from TRENDnet utilizes "GREENnet" technology to reduce power consumption by up to 40% couple this with a huge set of 24 ports and you have quite possibly the meanest green switch in town. Join me while I review this new 10/100 24 port green switch from TRENDnet.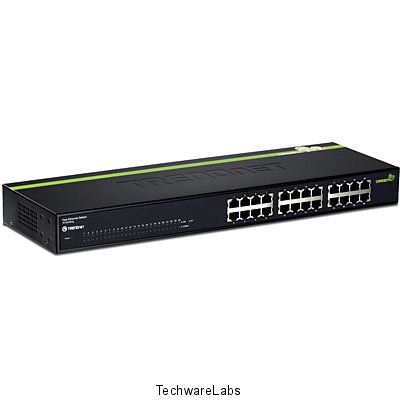 TRENDnet's TE100-s24g 24-port green switch.
I will be testing data transfer to multiple PC's to determine maximum transfer rate. I will be using passmark's network benchmark utility which will provide a steady network stream without being limited by CPU usage thus giving a more realistic benchmark of the switch.
Before we get into the meat and potato's of this review lets take a moment to go over the actual switch itself.