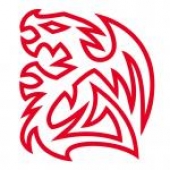 Introduction
In the current mouse market of "more is better" many consumers get lost in numbers. We see higher numbers and we assume that the product is better. We want more DPI, more buttons, more features, more complexity. But why? As we focus more on the exact feature set of a new mouse, we can often overlook how well the mouse actually performs in real life.
People seem to forget that numbers are just that, numbers. The real-world usefulness of a mouse can't be measured by just a number. A good mouse is one that you don't mind keeping your hand on for multiple hours at a time. A good mouse is one that you don't notice while you are gaming because it is doing its job exactly as it should. The Tt eSPORTS Azurues Mini is a perfect example of a what I would consider a "good mouse".
Features and Specs
Features:
Powerful 1600 DPI optical engine – provides superb accuracy and precision.
DPI adjustment – 400/800/1600 DPI allows for ideal speed in any situation.
Full rubber coverage – ensures a strong, no-slip grip.
Teflon feet – allows for minimal resistance and high durability.
Pause-break lighting system – for a more engaging gaming atmosphere.
Braided cable – reliable strength with high flexibility to avoid tangles.
Technical Specifications:
400/800/1600 DPI switchable optical sensor
500Hz / 2ms response
15G Acceleration
6400 fps
40 ips max speed
51mA Operating Current
Gold-plated USB connector
1.8m braided fiber cable
Approximate size: 114mm (length) x 62mm (width) x 37mm (height)
System Requirements:
PC with USB port
Windows® 7 / Windows Vista® / Windows® XP