iPhone 3G Disaster Release!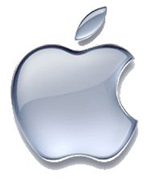 Introduction
The staff of TechwareLabs likes to stay up to date with all of the latest electronics and their releases. On June 9th, 2008 we were so excited for the release of the new and highly anticipated iPhone 3G. Day in and day out we checked for any new press releases, in hopes that apple would break their normal oath of silence concerning new products. As usual, and for some obvious reasons Apple neglected to release anything. Nevertheless, to assure that TechwareLabs got the opportunity to do a full detailed review, we waited in line. Mike Lynch and myself (Dan Shannon) arrived at our local mall on Thursday July 10th at 9:00pm, and were surprised to be the first in line. About 10 minutes later the masses began to arrive and man were we lucky. We sat outside of the store with roughly 150 people until the mall allowed us to enter at 6:00am. We had to endure everything! One of which was there was a lady whom tried to cut in front of us even though the other 100 people clearly informed her that she was standing at the wrong end of the line.
There we sat until the mall doors opened at 6:00am and we were then allowed to wait in the air conditioning. At 5:00am, an Apple representative came out to welcome us and pass out flyers. These flyers stated what was needed to upgrade or get an new plan: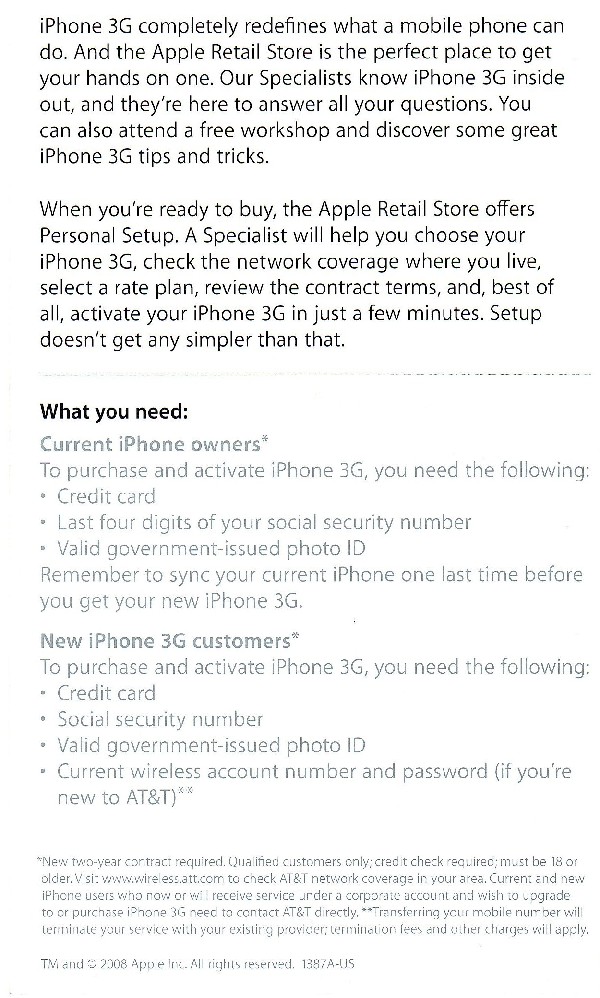 Although we clearly had all of this information, we still asked to speak to the representative to assure that we would be in good standing. I told him that I was not the primary user on the account, but that I was an "Authorized User" as defined by apple and ATT. He told me that I was good as long as I had the last four of the my social, a government issued ID and that I was eligible for an upgrade. As Informed by both AT&T and apple prior to our wait, due to the fact that I was a current iPhone user, I was automatically eligible for the upgrade. I attempted to confirm this with the apple representative at the store but said that although this is usually the case, I could have been an exception. Upon questioning him on how i could have been an exception he moved on to answering other questions and ignored it complete. The apple representative then disappeared for a while and reappeared again at 7:00am. The Apple representative then informed us that due to the fact that we were not the primary account users, we would not be allowed to purchase an iPhone at all. He said that it has to be your plan that you are upgrading the phone. If not, that person has to be present, with their ID and their credit card. Authorized users were not authorized to do anything. By this time there was a good 200 people in line, in which about 150 of them were told that they couldn't get iPhones and basically to "get lost."
To give you a better idea of whom was allow to get the new iPhone from the apple store. The only group of members allowed, was if you were either currently not an ATT customer and you were signing up for a new two year contract, or you had a personal account in which you were the "account owner" not an authorized user or anything. All Business and Corporate users were turned down along with customers whom had personal accounts, but the account was under either the parents or spouse of that customer. As being located in a college town, most everyone waiting in line were college students that were on family talk plans with their parents, in which case their parents were the account owners and were turned down service unless the parents were there to purchase it themselves.
By this time it was 7:30am and we were about to head home and get some sleep, as we had been up all night. As we were pulling out of the mall parking lot, we noticed an ATT store located across the street. We looked and there were only two people in line. We said "what the heck" and went for it; If we've been up for 23 hours, what's another 15min? We arrived and hopped in line. By the time we said hello to everyone in line and told them our war stories. The AT&T sales reps were outside with ice water helping people make sure they had everything they need. When it came to my turn the said that I had everything that I needed and that I was next in line.
Once we got into the AT&T store, everything was smooth sailing. We got our phones set up and were told that all we had to do is go home, plug it into iTunes, and play. We walked out of the store happy and satisfied customers. We then noticed that the 150 people that left with us, ended up in that line, right behind us again. We got a couple of numbers to keep in touch, as new friendships were formed. We rushed home to finish activating our iPhones and couldn't wait to browse in 3G. We got home and were yet again tortured by Apple. We were told that all we had to do was plug in our phones to iTunes and sync and we were good to go. Attempting to contact customer service with apple is a joke already, and with the release of the new iPhone we knew that we were up for a treat. We waited on hold for nearly 45 minutes before falling asleep at the phone. I awoke almost an hour later as I was falling out of my desk chair, and almost as a sign from the anti-Mac gods the apple rep answered the line. and had absolutely no idea what was wrong. He said hold on and then disappeared for about 20 min, coming back only to tell me to try again in a few hours and if it still didn't work to call back. After using all I know about apple to yell at my iPhone, it randomly decided to work. YAY!!! iPhone 3G!!!
I must say, I am not that big of most Apple products, however I love the iPhone. So far it is amazing and os everything I could of hoped for. I just hope that I never have to talk to the Apple rep again. If I were to come across him I would tell him: "You are one of the least benightedly unintelligent organic life forms that i have ever encounter and it has been my profound lack of pleasure not to be able to avoid meeting. My soul has been tainted and beleaguered by your unholy and lascivious personage." Apple could not have done a worse job releasing the iPhone. As usual they held all information until the last minute and then briefed their employees the night before. Thankfully they let the AT&T store handle this release with them as they obviously didn't have the intelligence to handle it on their own