Anime Festival Orlando 2008
Anime Festival Orlando 2008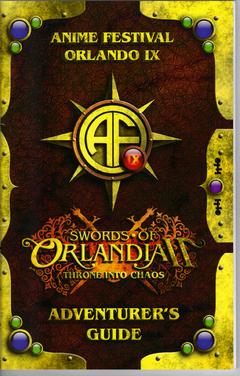 Introduction

It's that time of year again in central Florida where fans of anime, manga and RPGs come together for a weekend of events, games and a comradery based simply on shared interests. This is AFO IX, where fans of the above genres come dressed as their favorite characters, some extravagantly so. AFO, held at the Wyndham Resort off of Sand Lake and International Drive for the past couple years, kicks things up a notch to propel itself above and beyond most anime conventions by having a running theme, which is an in-house RPG called Swords of Orlandia.


What is Swords of Orlandia?

Swords of Orlandia originated at last year's AFO when a set of the organizers devised characters and a plot line and acted it out on stage at various moments, and it was such a success that this year, the story continues in Part II. Part of the success can be attributed to the fact that the attendees are brought in and can participate as though it were a MMORPG (massive multiplayer online role-playing game), such as World of Warcraft. To get people involved, there are tokens hidden all around the resort grounds and these represent Experience (EXP), and the more that is collected, the higher your level at the end of the weekend. EXP can also be collected by participating in certain events. I had the opportunity on Saturday to speak with Angie, one of the organizers, about Swords of Orlandia. See the video below for the brief interview.




Opening Ceremonies

This event is when the staff/volunteers formally introduce themselves and the celebrity guests, and then the first portion of Swords of Orlandia II was acted out.



Swords of Orlandia II - Chapter 1

The celebrity guests are (partially from the Adventurer's Guide provided to visitors):
Aaron Dismuke - A (currently) 15-year old voice actor who has been in the industry since age 11. The role he is perhaps best known for is his role as Alphonse Elric in Fullmetal Alchemist, and also appears in Trinity Blood, Black Cat, Fruits Basket and Kiddy Grade.
Jason David Frank - He will be best known as Tommy Oliver from the long-running Power Ranger series, appearing as various color Rangers in each version of the show. He currently runs four dojos as a 6th degree black belt, and has been in full contact competitions since 2006 with 1 TKO and 1 KO.
Reuben Langdon - He is an actor/director/producer who has worked with Jackie Chan, as well as on the Power Ranger series. He has coordinated motion capture shoots for video games including the Bourne Conspiracy, where he portrays the main character and developed the fight choreography. The above is also true for his work on Devil May Cry, which is perhaps what he is most known for.
Christopher Patton and Monica Rial - They've about touched on everything:
Patton - The Dirty Pair, Bubblegum Crisis: Tokyo 2040, Gasaraki, Spriggan, Excel Saga, Noir, RahXephon, Full Metal Panic!, Saint Seiya, Pretear, Evangelion, Kiddy Grade, Gravion, Fullmetal Alchemist.
Rial (a non-extensive list): Air Gear, Azumanga Daioh, Excel Saga, Full Metal Panic!, Hello Kitty's Animation Theater, Kiddy Grade, Noir, Princess, Nine, RahXephon, Macross, Spiral, Fullmetal Alchemist.
Doug Smith - As a voice actor, he was Kintaro Oe in GoldenBoy and has touched on other anime titles such as Bubblegum 2040 and Steam Detectives. He is also an accomplished graphic artist who has done package design work for many anime releases.
Travis Willingham - He was Colonel Roy Mustang in Fullmetal Alchemist, and has worked on other anime such as Aquarion, Black Blood Brothers, Code Geass, One Piece, Hellsing Ultimate, Case Closed, Blue Gender, Dragonball Z/GT, Yu Yu Hakusho, and has appeared vocally in some video game titles such as the Fullmetal Alchemist games and Time Crisis 4. He is currently starring in a new feature film titled, "The Gunslinger."
Stephanie Yanez - She is a singer who has appeared at various events in the country as well as performed with, and opened for, some accomplished Japanese singers. Her first solo, Double Ep, was released spring of this year.

REALTIME PRICING