Computex 2008 Day 1
Computex Begins:
Pre-computex ceremonies commenced and the theme for the show was given as an acronym W.I.N.G.
W: WiMAX Mobile Internet Broadband
I: ICT Leading Show Providing Products
N: New Small Form Factor Notebooks
G: Green IT and Environmentally Friendly Products
While the concept of the Wing may be a little unusual the adoption of these areas as a focus at the show will defititely pay off in the long run. Lets take a closer look at each of the areas in which the Computex Show focus' upon.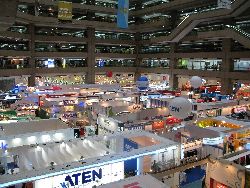 WiMAX Mobile Internet:
Think of WiMAX as the combination of the best qualities of WiFi and current Mobile Broadband services. This being:
Wide range coverage (over several miles, think city wide coverage)
Fast speed (Can be offered ranging from 3 to 8Mbit)
Low Cost (Service change per month should range from $20 to $40)
Adapters can be embed into your laptop without the need for external dongle
WiMAX is currently being tested in several cities around the world and here in Taipei. The speeds and access are everything you would expect it to be. Once offered in more cities WiMAX will become a mobile broadband killer as well as probably being the death of current WiFi as you wont have to be anywhere near the local hotspot to connect.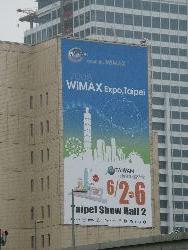 ICT:
Taiwan holds Computex each year and continues to promote this show as the leading ICT platform worldwide. With facts and figures like the ones below you can easily see why:
35,000 Estimated International Buyers
4,000 Estimated booths
135,000 Estimated total Visitors
As we mentioned during last years show, computex is heavily geared towards establishing new relationships resulting in purchases and revenue for Taiwan.
New Small Form Factor Notebooks:
In the first day since we arrived at the show we have counted over 10 different new models of SFF or mini notebooks offered. Asus, who arguably gave the industry its jumpstart has just announced the EeePC 1000 as well as similar announcements being made by MSI, Dell, ECS,and Via in the past few weeks. It seems all of the major players and many of the smaller customizers are getting into the market having realized the power and desire of the public for these small machines. Intel has just announced the Atom processor which will give this new platform mucher higher potential power at a lower energy consumption. The MSI Wind for example utilizes the Atom processor running at 1.6Ghz and with the standard 3 Cell battery will have a working time of close to 3 hours. The 6 cell version pushes that just shy of 6 hours to enable you to become the ultimate road warrior and all of this at a price point below $499 for a Windows version of the notebook with a 1.6Ghz processor 1GB of Ram, 10 inch screen (1024x600) and 80GB hard drive. This leads into the concept of GreenIT.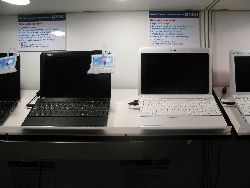 GreenIT:
Again as we reported last year the concept of "Green" is not new to Taiwan though it is starting to hit home for many Americans and American companies. Consumers are looking to get the most for their money in this day of ever escalating energy costs. We want notebooks to last longer and work harder, we want products which do not damage the environment, and we want them from companies that do not pollute. Once again Taiwan is at the forefront here and is already well underway in this process. Their buildings are more effecient, the companies have already adopted philosophies and plans that help them achieve a much more Green friendly existance. Intel has recognized the need for more powerful processors consuming less energy and as we reported has released the Atom processor to much fanfare. Via has also released the Nano which promised to compete with the Atom in the 12 and 14 inch notebook markets providing unexpectedly good performance from the processor maker. With no word yet on any such release from AMD you have to expect the chipmaker is investing heavily into R&D for this market as there is no end in sight for the demand for such products.
A big thanks goes out to Taitra for making this trip possible and to Apacer for providing the memory we used to bring you images from this confrence.
REAL TIME PRICING