Computex 2008 Product Highlights and Events
Computex 2008 Product Highlights and Events
Glacialtech
We continue to like Glacialtech as a company and their products. This year they are showing off several new products which we shall have reviews of here at TWL, in addition to several concept heatsinks that use a push/pull as well as stacked approach. When asked for our feedback on the design we expressed the concern of most of our readers that a heatsink should perform good without the need to rip apart your rig to install it. Heatsinks are an upgrade product for most people and having to install the motherboard backplate is a task that most of the TWL readers do not like. Glacialtech also produces some of the best power supplies we have seen to date and is working on their 80 Plus Silver line.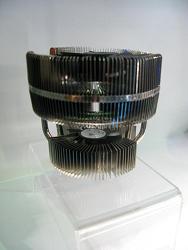 Enter the name you think is perfect for this new un-released heatsink in our forum thread and if chosen we will send you the heatsink and a power supply directly from Glacialtech.
OCZ
OCZ is once again showing off some absolutely kick ass products and continue to show ingenuity and creativity in their design. If their aim is to revolutionize the gaming industry they are well on their way. Stay tuned for some major updates from this company which may show up in a very mobile form.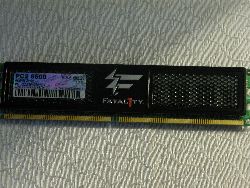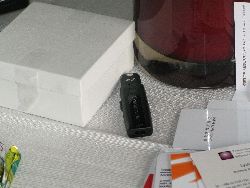 Looks like someone at OCZ has an interesting sense of humor.
Apacer
Apacer was showing off its line of memory and peripheral products at this show and has some really nice stuff on the way. We like the memory cooler and can't wait to test out their line SSD. A big thanks goes out to Apacer for providing the memory we used to take these photo's with.
REAL TIME PRICING