Computex 2008 Brilliant and Fun Stuff
Computex 2008 Brilliant Products and Fun Stuff
Brilliant Products:
Computex shows off every year new and amazing products. Some of these make it to market in mass production, and some end up as cool ideas which we never see again due to economics or ability to produce. We put some of these products above others for their brilliance of design and unique offering to consumers only if we feel we will actually see them on store shelves. Let the Computex 2008 brilliant products begin:
Antec:
Each year we see new cases from this power supply and computer case giant. The features are cool and the power supplies are pretty good but this year we were in for a treat. The latest design of case being shown off by Antec is called the Skeleton and its sibling the Mini-Skeleton. Iinitial reactions ranged from "Awesome!" to "Where can I get one!" and we put it into the same category as the Thermaltake BlacX as a product that was simply designed right and hit the target dead on the first time.
Fun Stuff:
We were there to watch John Chow from The Tech Zone surf on one of Lian Li's PC cases with their permission. I guess that answers the question "How strong is a Lian Li Aluminum Case?" John tips the scale at 200lbs and took to the top of the case as you can see in our video below quite quickly. Lian Li found it very humorous though they wouldn't let us pull John down the isle to test out his balance. We did ask John to pull an Olli but the case was a bit big for that.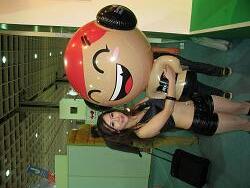 Don't worry as usual TechwareLabs will have a full babes gallery at the end of Computex.
REAL TIME PRICING
Please Digg