Article - Comdex 2002
Written by Edward Chang
November 25, 2002
FIC:
I just had to pay a visit to Alex Mei at FIC. Comdex was so slow this year that we walked in to the FIC Hilton Suite without having to make an appointment. Tom Chang introduced us to many of FIC's pimp case and mobile product line before Alex briefed us on their upcoming motherboards and video cards.
FIC is actually a big OEM manufacturer, so most of their products are not name-branded. Take their cases for example; FIC designs and manufacturers cases for a few big Japanese system-builders. Among the many excellent small form factor cases on display, FIC said they made the smallest case on the market: a 6 Liter slim-case (pictured left of the monitor below).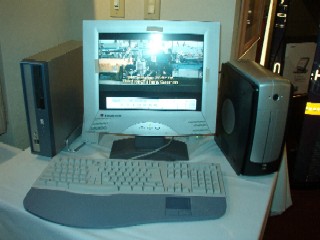 FIC Set-top Home System (box to right)
FIC amazed Harry and I with their set-top device. It loaded a DVD application in less than 2-seconds. This was able to boot so fast because it did not have a HDD. The application is stored in the internal BIOS chip and the device can play DVD movies by buffering and caching the DVD playback to the onboard BIOS. System-on-chips are quite an astonishing feat in compartmental technology.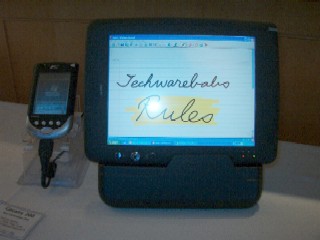 FIC Tablet PC and FIC PDA
FIC has also made a strong venture into the mobile computing market. They have an awesome feature-rich and ingeniously designed Tablet PC device capable to cater to the needs on any virtually any workplace from homes to schools to businesses. The Tablet PC runs a Microsoft Windows Tablet PC operating system and comes with two styluses (one for backup) that emits a laser that interacts with the digitizer LCD screen. So, the LCD is not a touch screen like most other Tablet PCs out there. Using a digitizer allows one to rest his or her hand on the screen while writing and it will not interfere with the scripture. This FIC Tablet PC is equipped with all the ports and connectors one will need: ethernet, 56K, 802.11b, firewire, USB, and others. Another cool feature of the Tablet PC is that the monitor output can orient itself differently, to allow any user to work efficiently and comfortably with this device.
The PDA along side the Tablet PC is also running Microsoft Windows. It incorporates a 400-MHz Intel Xscale processor and MediaQ graphics chip. FIC played a music video using MPEG1 format and it was playing at a relatively impressive 16 frame-per-second rate on this PDA.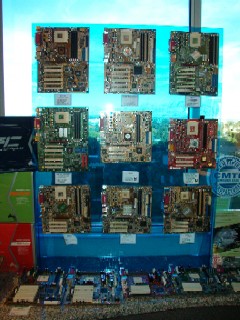 FIC Motherboards
Alex took over the tour and shared with us FIC's upcoming motherboards. FIC is in a unique position because it is probably the only company to manufacturer both Nvidia and ATI-powered motherboards. FIC had their ATI IGP 320-based AT31 and newer IGP 340 for P4 motherboards. The IGP 340 allows ATI to possess the fastest integrated video solution in the P4 motherboard market. In addition, FIC also had Nforce2, VIA K8T400 for Hammer, VIA KT400 and KM400 (sporting S3's new and improved integrated Castlerock graphics), and other Intel 845 family motherboards.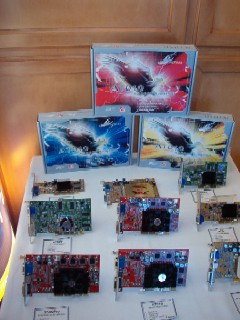 FIC "Rapture Ware" Brand Video Cards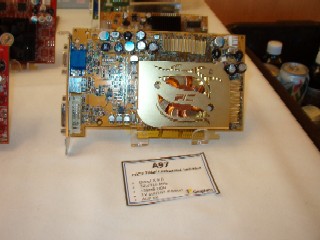 FIC's very own Radeon 9700 design
Next stop was FIC video cards. On the table we saw several familiar ATI reference designs. However, a few video cards were distinctly different. The most impressive looking FIC-built video card is their upcoming FIC Radeon 9700 Pro. Shown above, it has a nice complementing PCB and heatsink-fan and moreover memory sinks! Alex remarked that their Radeon 9700 may be higher-clocked than ATi's own. FIC will also be marketing their own video cards in an FIC Rapture Ware retail-product line.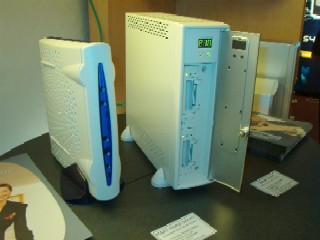 FIC Servers
Lastly, FIC also adds servers to their arsenal. The above small form factor servers are budget solutions for small companies. Powered by cool-running Transmeta processors, FIC is able to maintain such small chassis.
Before Harry and I left FIC, were were fortunate to meet FIC President Gene Sheu. Gene provided an interesting insight into the computer industry. He hopes more people will buy power-hungry products like digital cameras because the purchaser eventually discovers he or she must upgrade their old computer system to use a digital camera; and hoping one day gas stations will give free digital cameras so that people will have to upgrade to FIC products. Fantastic fellow! (Hardware should catch up to hardware, who cares about software?)