CES 2007 Day 2
Once again Techwarelabs brings you coverage during this years CES (consumer electronics show). 2007 promises to be the year of Multimedia, Vista, and Audio. As soon as we exited the plane in Las Vegas you could tell CES was in town. There are banners and advertisements everywhere. Vista logo's are on slot machines, walls, floors, and they even placed a banner on the side of an entire parking garage.
We started the night with TheTechZone party in the penthouse suite of the Bellagio Hotel. The party was co-hosted by Futuretronics and Futurelooks.com. We have to give credit for one of the best parties we have been to, additionally the girls at the party win our BEST COSTUME AWARD: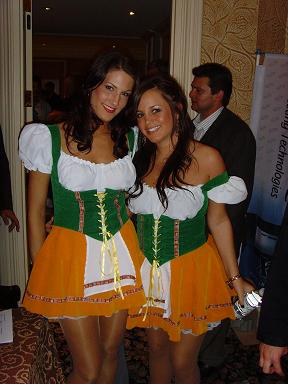 Wow, just wow!
Product Announcements:
Microsoft had a press conference where they spoke in depth about Vista, windows live, and several other emerging technologies they are working on. Far from a product announcement this event was a true press conference. In the convention center they have setup approximately fifty PC's that are all running Vista for the visitors to play with. Its easy to see that MS is pushing Vista big time. We have to ask though. . . Where are the media samples MS come on?
Sandisk made several announcements during a press conference for 5 new products utilizing their storage. One of the major anticipated new products to come from Sandisk will be their SSD (solid state disk) with loading times for windows as low as 15 seconds (I'll take two please). Sandisk expects prices on SSD drives to fall rapidly with industry acceptance. We believe that this technology is ready for the market and will have a huge impact on everything from software to hardware development. Just image what can be done with SSD drives that take up less space, run cooler, run faster, and have better reliability than standard drives.
CoolIT Systems just announced their Eliminator MTEC based system. You all remember their wildly popular Freezone, the eliminator is priced significantly lower than the freezone and has excellent performance. We were able to tie the CEO of Cool IT Systems Geoff Lyon down for five minutes to get his take on the new products and some unique offerings in the OEM market. Take a look at the video here. Cool IT has some of the best products we have ever seen and for the money we can't think of a better cooling solution on the market today.
On to the pictures