Chilli Pro 1/4" Aluminum Case
Review by Shadrach 12.08.2002
Special thanks to Trendetronics for supplying this case.
Recently, the trend for cases has been to increase in size to enable the end user to pile as many toys into their system as possible. Some cases have as many as six 5 1/4" bays, and two or three 3 1/2" bays. If you are looking for an extremely high quality case to fit in a small area, or one that for a less bloated application (such as a server) Trendtronics has the solution you are looking for. The chilli aluminum case is a compact case which is available in ATX and mATX. In fact it has to be small, the 1/4" aluminum would be too heavy if it were any larger. Small, however, is not it's only selling point, this case's beautiful styling appears to have taken a page from contemporary art and would look at home on any executive's home office desktop.

Specifications
Silver Anodized Aluminum
made of T6061 Aluminum Alloy
Dimensions: 7 Wide x 15.5 High x 10.5 Deep
Two(mATX) 5.25" External Drive Bays
One (ATX) 5.25" External Drive Bays
Two 3.5" External Drive Bay
Two 3.5" Internal HDD Bays
A Closer Look
A case that is thick enough that inner skeletal framework is not even necessary! Can you believe it? 1/4" aluminum is hard to comprehend unless you have seen it. Hex screws are used to hold the case together and since the aluminum is so thick, they are screwed directly into the aluminum plates that make up the body of the case.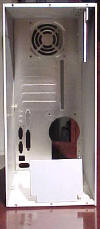 Now that's thick stuff!
The aluminum material is so sturdy the Trendetronics is currently supplying these cases to a biomedical research facility so that they may use them in a new device which will aid in the detection of cervical cancer. The research facility chose these cases because the size and the thick aluminum which is used. The front of the drive bays can be sealed with an extra metal plate. This gives the case a nice look and feel.
Anodizing aluminum allows hiding of any marks which may appear due to handling. Short of a significant scratch, the case should maintain a "new" look for it's lifetime.
Previous reviews were read to prep for this review and it was found that a thin cage was used in previous versions of this case. Well that is not true with this one. The card cage material is about half the thickness of the case now. You could put a 20 lb. weight in the current mount and never need to bother worrying, it will stay in place fine.

Hard Drive Mount