Super Flower 201S Aluminum Tower w/ Windows
Review by Paul Machado on May 27, 2002
Product Supplied By: A-pro Innovation
Retail Price: $175 USD
Introduction: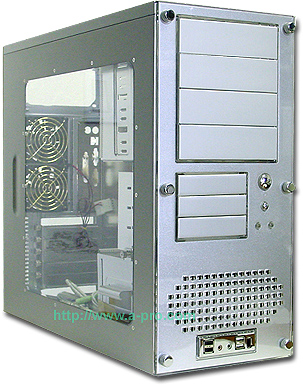 Picture courtesy of A-pro Innovation
Aluminum cases these days are becoming pretty popular and demanding. Not only do they look much nicer than a boring beige case but they also provide some great cooling opportunities. What is also so great about aluminum cases are the fact that they are much lighter than conventional steel cases. A-pro who is a large PC case dealer and importer was kind enough to send me this great looking case. The box it came in was substantially larger than the case itself which is good. The case was packed well and protected by large foam spacers to prevent the case from getting damaged during shipping.
During first inspection of the case I was generally impressed on how well it was built, looked and how light it was. When you compare the weight difference between an aluminum case and a steel case the differential is substantial. With the average steel mid-tower case weighing about 25-30 pounds this case weighs only 17 pounds. Now the average person not might care about the weight but a "Lanner" surely appreciates the less weight.
Now you may say that with the case being aluminum and only weighing in at 17 pounds there must be some down side to this. The case must be flimsy or poor built. This is not true what-so-ever. A lot of time and care was definitely put into this case because it is very well built, designed and sturdy. Now lets have a look at the specifications.
Specifications:
Specifications

Motherboard
Standard ATX / Extended Form Factor ATX
Drive Space
Exposed: 4x 5.25" , 3 x 3.5"
Hidden: 5 x 3.5"
Expansion Slot
7 Full Slots
Power Supply
Sold Separately
Dimensions ( D x W x H )
19.37" x 8.27" x 17.72"
Buttons
Power, Reset
Fans
(front) 8cm x 2, (back) 8cm x2
Fans Included
Available Colors
Silver , Blue Transparent, Black
Motherboard Compatibility
( best fit )
Maximum Size = 12" x 13"
As you can see in the above specs this case fits into the mid-tower classification. With overall dimensions of 19.37" x 8.27" x 17.72" this case should fit the desire of most end users. There is a limited amount of space to work with but enough. Once you are playing with the inside of the case you won't have to worry though about cutting or scraping any parts of your hand. Any sharp corner or edge has been covered up by a plastic lining to prevent any injuries. A great idea considering the size of the case.