Chieftec Case & Thermaltake
Water Cooling Kit

Reviewed by Shadrach 4.22.2003
A very special thanks to Xoxide.com for supplying this hardware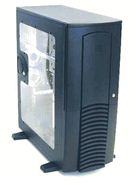 Breathless gear. Xoxide has provided us, in one review package, with some of the best gear currently on the market. The title is much to short to begin to describe what was received, so let's clear that up right away:
Black Aluminum Chieftec W/ flush fit riveted window
(4) Quad Red light 80 mm case fans
Thermaltake Aquarius II liquid cooling solution
Green cold cathode lighting kit with second light
Initial thoughts:
Chieftec has been producing quality cases for sometime now and the experience shows. The flush mount window in this case is clean and appealing. Mounted well with plastic expansion rivets. Cages for hard and floppy drives are easily removable via a small lever and the hard drive cage includes a fan for cooling your data. More to come on the case extras later..
Thermaltake is a leader in the cooling industry. Most water cooling gear that is on the market is parted out. In other words, you can find a water block here, or a radiator there but rarely do you find the full solution. Thermaltake has brought it all together. Not only did they think about the full kit, they also took other form factors into account. The kit supplies mounting block clips for K6, K7, and Intel chips and is clearly a full solution product.
Spicing up your case with lighting has become a cheap way add appeal to rather drab beige boxes with minimal expense. Lighting is another technology that is evolving. The dual head option on the Xoxide transformer gives the ability to run multiple lights where commonly a transformer is needed for each light. Again, the specifics of this will be outlined in the article..