Xoxide PC Tachometer
Review by knight1976
Introduction
Ever notice how very few modified cases look much different from other modified cases? Even custom modifications are not really that much different from other cases. Everyone has a window, cathode, rheostat, painted interior, but there are not many things that you can do to your case that has not already been done or overdone. At least that is what was thought before the PC Tachometer from www.xoxide.com came to be.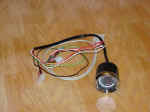 Description
Techware Labs received a PC Tachometer from Xoxide for review. It came with wiring and software to run the PC Tach. It is basically CPU usage displayed through a tachometer (yes the kind of tachometer that is in your car).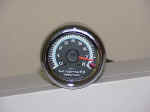 The tach itself is the Sun Super Tach II, it is a very stylish looking unit. It is a backlit unit that is not very bright so it will not overpower any case lighting solutions. Also, if you are a little adventurous you can actually change out the tach with just about any 4 cylinder tachometer at your local auto parts store.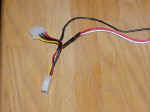 The device connects to the pc via a serial connector and it is powered by a 4 pin molex connector. The cable is approximately 4.5-5 feet long so it has a great mounting options. An added feature that was very helpful is the quick disconnect that allows the tach to separated from the serial cable. This feature enables the serial cable to pass through a small hole or card slot without having to cut a hole for the serial connector to fit through.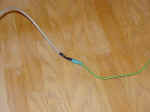 The cable is long enough to mount the tach anywhere in a full tower case with ease. Here is where we put ours. Notice the serial cable is on the right side and the cable ran all the way over my monitor. There is more than enough cable to mount this almost anywhere you want.
Testing
Setup and testing on the tach was a snap. Just install the PC Tach to a serial connection on your PC, plug in the power cable (4pin molex) and install the corresponding software for that port. That is the extent of the install. The PC Tach should now be installed and be moving and pegging out with cpu usage. Ideally the PC Tach would be installed flush in a case, however for testing purposes the unit was not mounted--It was simply set on top of the monitor. (There was no interference with the monitor's color or picture.) There is no way to describe how cool the tachometer looks when the user is playing a game of Counter-Strike and the needle is just pegged out. This author spent about ten minutes just starting up applications and watching the needle bounce around. Here is a quick clip of what it looks like when cranking up Quake 3.
Conclusion
This is a very cool product. It not only allows you to be entertained with how cool it looks, but it also allows you to visually monitor when your computer is using processor cycles that you are not aware of. It is a modification that not many people have on their pc and, this mod is recommended to anyone who wants to stand out from the crowd at the next lan, and have a damn cool tach on their pc. To order your own PC Tachometer and other original Xoxide products visit www.Xoxide.com. This prodcut is rated at a overall 8 out of ten.