SUNBEAMTECH.COM: Quarterback PC Case
SUNBEAMTECH.COM
Quarterback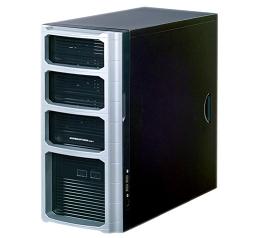 Introduction:
Computer cases on the market today are pretty much meant to be flashy and designed around air flow through a case. We have posted several postings on how-to mod a computer case to make your PC a little more custom. The team at SUNBEAMTECH.COM has sent us their Quarterback case to review. So let us take a look at what form and function it has in store.
Most cases TWL gets out of the box gives us a "Wow, hey cool" response, well the quarter back didn't give us the slightest at first, but looks aren't everything. The Quarterback is designed for functionality over looks. As you can well imagine, a case that looks great but doesn't work well will still fail, and worse yet it may take your PC with it when it does fail. Sunbeamtech has approached the Quarterback with a set of mid case 120mm fans which are to assist with case air flow (patent pending). The case specs are shown below.
Color
Silver / Black (SVBK)
Drive Bays

5.25" Drives Bays x 5
3.5" Drives Bays x 5 ( External x 2 + Internal x 3 )

Front I/O
Port USB 2.0 x 2 + Audio + Microphone
Chassis Dimension
H 451mm x W 200mm x D 430mm
Side Window
Acrylic Side Window ( Optional )
Tool-Free Kits
CD-ROM
Floppy
Hard Disk
Expansion Cards
Weight
N. W. 7.7 kg
G. W. 9.1 kg
The design of the core fans in the Quarterback case are quite inventive and an interesting idea to assist with the "flow" of air within the case. The designated locations of the mid case fans to directly blow across the CPU and the second case fan to assist blowing the heated air out of the case rather then letting it re-circulate within the case did show a few degrees in temperature of the air cooled CPU. The other mid-case fan is designed to blow across the PCI cards and then the heated air would pull from the case by the 120mm fan mounted on the side of the case through the acrylic window or panel. In theory and on paper is one thing, but does the design work with a PC installed in its innards?

Let's take a closer look.