Chieftec Scorpio TX-10BLD Entry Level Server Chassis
Reviewed by Akimoto, 04.25.02
Provided by: Chieftec
Street Price: $49 USD w/o power supply
Directron carries a wide variety of Chieftec cases, including an all new Chieftec Matrix Case. Check it out here. Be sure to use the special $10 of $100 Directron offer by entering "firsthardware10pub" when checking out. Hardware Pub appreciated your patronage.
Introduction
Chieftec Industrial is a computer-oriented company that was founded in 1990 in Taiwan. Chieftec specializes in computer chasses and power-supplies, and is a leader in the manufacturing and exportation of computer cases. Chieftec manufactures everything itself, and in 1998 and 2001 has established new plants in China as it continues to grow. The model that Hardware Pub will be evaluating today is the Scorpio TX-10BLD, which is an entry level server case.
Computer cases are probably the most overlooked part of DIY computing. Most users who decided to build a computer for his or herself look for the cheapest tower case that comes with a minimum requirements power supply in order to cut building cots. Almost invariably users will later on realize the folly of such a hasty decision and spring for a case that's in it for the long haul without dropping too much weight off the old wallet, which is where the TX-10BLD comes in; an ostensibly strong competitor for housing that quaintly nicknamed "rig".
Specifications

| | |
| --- | --- |
| Model | TX-10BLD ATX |
| Dimensions | 473 x 205 x 522 mm (D x W x H) |
| Drive Bays | 5.25: 4 |
| | 3.5: 6 |
| Material | 1.0 mm SECC |
| Expansion Slots | 7 Standard |
| Cooling Fans | Intake: 2x 80 mm optional fans |
| | Exhaust: 2x 80 mm optional fans |
| | Side Panel: 1x 80 mm included fan |
| Weight | 12.5 kg |
The Case - Outside

Now, you might have the impulse to say that this is an Antec case. The Chieftec Scorpio line and the the Antec Performance line are in fact practically the same, the only difference being Chieftec's OEM blowhole on the side and the front bezel. Chieftec is a member of UNEEC, and the Antec Performance Series is manufactured by their group. Antec has merely popularized this model in the United States, and Chieftec is now offering the same chassis with a few minor differences.
The case itself is very sturdy, having been made with 1.0 mm thick steel: It can easily sustain an average sized person (this was tested). The downside to such a strapping case, however, is that it is rather heavy. This means protection for your precious and expensive computer parts, but also means a workout while transporting it to LAN parties.
This particular case is painted blue, but it is also available in grey, silver, and charcoal black. The paint job is very well done, especially for a machine painted case. It does not scratch very easily (as some custom painted cases do), and looks particularly attractive. Additionally, it is one of the few OEM cases that has a blowhole in the side, a nice little pre-mod for those who are a little less willing to hack away at a new toy with power tools. It comes with a very sleek looking grill, but if maximum airflow is demanded this can easily be swapped for a regular grill. Before moving on, one additional general feature of this case that should be mentioned is the "feet" along the bottom. They stop the case from tipping and generally stabilize it. If not needed, however, they can be swung in.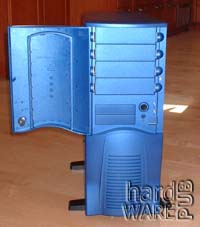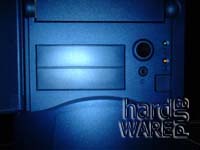 The front bezel does allow for a good deal of airflow, and lets the intake fans do their job. Many generic cases have only a few marginal slits or wholes, or else the airflow issue is totally ignored. The top of the bezel swings out to expose the 5.25" and exposed 3.5" drive bays and power buttons. There is large power button and a smaller reset button, next two which are two LEDs: a power LED and a Hard Drive LED, so it's basically entirely standard. The door can be locked if you've got little ones around, but this feature probably wouldn't be used by most users. The 5.25" drive bay covers are easily removable, due largely to the sunken areas around the periphery. Generally the front bezel is quite attractive and provides slightly above average functionality. An novel feature of this case is that there are two places on which you can stick your various case badges: the outside of the door and just to the bottom right of the power button. The side of the case has an 80 mm blowhole which has a custom built fan grill. It constricts airflow slightly more than some would be comfortable with, and this grill can easily be replaced by a custom grill in order to maximize airflow.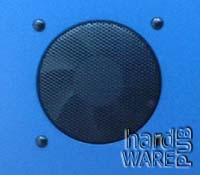 The back of the case has a full seven standard expansion slots, enough to accommodate a host of expansion cards along with an exhaust-fan card or two. The slot covers do screw in, and aren't the nasty one-use-only twist off kind that could make a body insane. The back panel sports two exhaust ports which can accommodate an 80 mm fan each. The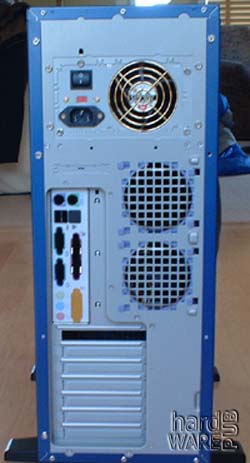 violet plastic brackets that arepeeking out of the grill are a rather nice feature of this case:
the fan can easily snap in, rather than needing to be screwed in. The fans have easily enough room around them for some case cutting. If so inclined, you could easily widen the exhausts to accommodate two 92 mm fans. The motherboard back access panel is very nice and is removable, so that you can actually install the back panel that comes with some boards instead of cutting yourself trying to snip away some of that cheap steel to accommodate the integrated LAN, or other unique feature. The power supply that comes with this model is a 360-watt with dual ball-bearing fans. The Chieftec models sold in the United States are generally sold without power supplies, so this is not a large concern.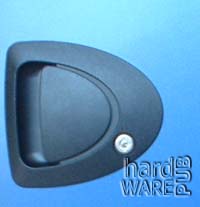 One thing that you should take note of is the careful folding of metal at the joints. Metal is folded over to limit EMF emissions, and also help reduce injury by rough machine-cut edges. After working with this case for a while, no bandages or iodine were needed! The bolts are well placed and intact, and everything seems quite solidly constructed. Another very nice feature, as you can see to your left, is the system of removing the side panel. Most generic cases have sides that slide in and stay based on "fins" going into place and sticking. Trying to get one of those sides on correctly can be a harrowing experience, and the fins can also be bent or damaged over time to make it worse. This case offers a side that comes off by lifting the handle and "clicking out". It's quite easy, it avoids the stress, and it saves on wear and tear. Furthermore, it can be locked if you think they're out to get you. The side can still be secured with standard screws, and it is quite a shame that Chieftec didn't include thumbscrews. Every enthusiast categorically loves thumbscrews, and it should be a no brainer to include them considering the minimal cost difference; but it's not like you can't install them yourself.