Thermaltake NBcool T2000 Notebook Cooler
Thermaltake NBcool T2000 Notebook Cooler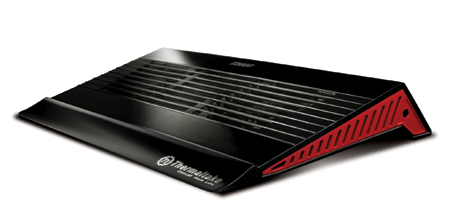 Thermaltake has sent us another great product to review. This time TechwareLabs takes a look at the NBcool T2000 Notebook Cooler. There are two available coolers, a large one, and a smaller one for portability. This is a low-midrange product with respect to the full spectrum of notebook coolers on the market.
Packaging:

Features:
Supports most notebook dimensions.
Ultra silent dual 7cm fans keep noise level to a minimum.
Light weight for maximum portability.
Black mirror finish look for style
Supports all notebook up to 15".
Multi-vent design; intakes more cool air for the best cooling capability.
USB Powered; eliminates bulky AC adapter.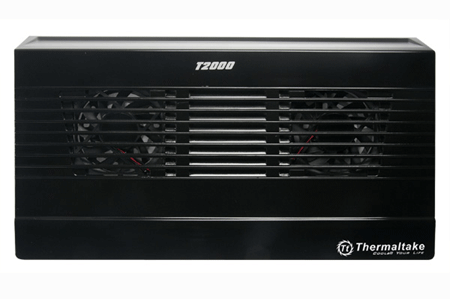 Specifications:
| | |
| --- | --- |
| P/N | R14PF03 |
| Application | For 12"~15" Notebook |
| Weight | 492g |
| Dimension | 330 x 186x 43.5 mm |
| Material | Plastic |
| Accessory | USB DC Jack cable |
| Fan | |
| Dimension | Φ70mm |
| Voltage | 5V |
| Current | 0.18A |
| RPM | 1200 ± 200RPM |
| Noise level | 18dBA |
Testing:
An application called Notebook Hardware Control, which came on our test laptop, was used to test the cooler that monitors the CPU temperature and the estimated battery life remaining, based on current power usage. Using Prime95 for stress testing, and no laptop cooler, the CPU showed a stable reading of 55C. We added the T2000 and ran Prime95 again. This time the temperature of the CPU decreased to 50C. Running the processor at half-speed, without the cooling device, the CPU showed a stable reading of 50C, which is decreased to 48C with the T2000.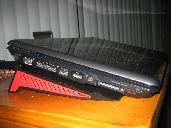 The estimated battery life can be used to determine what overall effect the T2000 has on this aspect. One of the main concepts behind using a notebook cooler is that it should extend the battery life. We decided it was imperative to test this. The contradicting specification of this product is that it runs off of USB, therefore using the battery of which it is supposed to conserve. As expected, if an application is used to slow down the processor when the full power is not needed, and if the CPU temperature is not high, the estimated battery life is decreased by roughly 15-20 minutes. However, if the CPU temperature runs high (55C) without a cooling device, the estimated battery life is increased by about 15-20 minutes when using the T2000. This testing is absent of putting a heavy strain on the system, but at heavy usage, we can assume the benefit would increase as the demand on the processor increases.
Below is a summary of the section above. The estimated battery life comparison is in reference to how the system behaves with and without the T2000.
| | | |
| --- | --- | --- |
| State | Temperature | Estimated Battery Life (+/-) |
| Without T2000, full speed | 55C | |
| Without T2000, half speed | 50C | |
| With T2000, full speed | 50C | + 15-20 minutes |
| With T2000, half speed | 48C | - 15-20 minutes |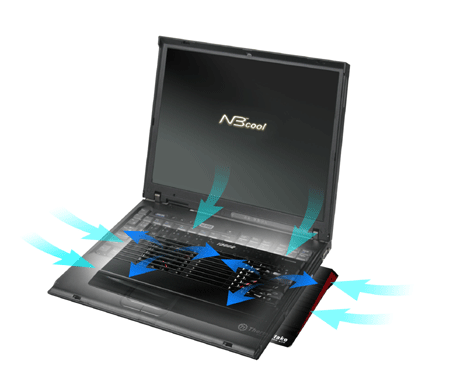 Conclusion:
At $23.99 from Newegg.com, the Thermaltake NBcool T2000 is a good product for the price level. It offers some cooling ability with a minor effect on your wallet. It's whisper-quiet design assures that this inexpensive notebook cooler will not distract you from your work.