Themaltake Dragon Orb 3
Introduction:
Thermaltake has consistantly been one of the worlds leading manufacturer's in computer cooling equipment, and I'm sure today many gaming enthusiasts are using their thermaltake coolers to cool down their pimped out and overclocked computer. Thermaltake has had a steady reputation in the buisness, and is currently providing 3 different lines of fans, their aquarius 2 cooling system, and memory cooling for us enthusiasts to use. Today we're going to take a look at the massive dragon orb 3, and see if it lives up to the reputation of its predecessors!
Specifications:
Specifications

P/N
A1135
Fan
Dimension 60x60x25 mm
Rated Voltage
12VDC
Started Voltage
7VDC
Power Input
6.0W
FAN Speed RPM
7000±10%
Max. Air Flow
38CFM
Noise
37dBA
Current
0.5AMP
Interface Material Bergquist
225U
Dimensions
69 dia mm x 79 mm tall
Bearing System
Ball Bearing
Life Time
50,000 hours
Connector
3 PIN
The Package: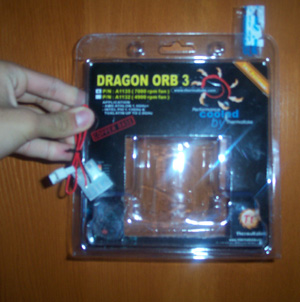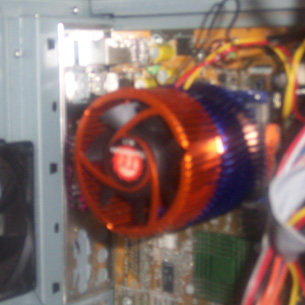 The package was pretty much as we had expected, 'heatsink' compound, a standard atx to 3 pin connector, and the fan itself. One thing that struck me was the weight of the heatsink. It was quite frightening, it was like lifting a 5 pound weight! Make sure your fan is thoroughly installed or it make break off the processor and take your video card with it!
The Heatsink:
| | |
| --- | --- |
| | The heatsink is one beasty little bugger, it weighs a decent 5 pounds, and boy does it makes some noise, but it certainly does its job! The heatsink has a copper base, and 6 clips (3 on each side to put on the hooks on the processor) and it is truly impressive with thermaltakes orange and purple design, denoting the new clip on model. The installation was quite a feat, it was really hard to get the huge fan inside my case while trying to manouver the clips around the processor and getting the attached, it took me 3 or 4 tries to get it to work and to stay attached properly, I really noticed that the dragon orb was quite picky about how it was installed. I could get 59 degrees C on one install, and 44C on another. As well, would you like a jet engine under your desk? If so get the Dragon Orb 3, |
| with its amazing noise you could swear you were at an airport! Onto the positive side, the fan really does do its job and lives up to the cooling ability of its predecessors, it brought my temperatures down nearly 15 degrees! As well you will notice that this HSF also runs at its threshold 7000+/- within 100 rpms. | |
The Tests:
Specifications of the Testing Computer

Motherboard

Asus A7A266

Processor

AMD Athlon Thunderbird 1.2 GHZ @ 1.4

Ram

Nanya 256mb pc2700 DDR

Video Card

ATI Radeon 64mb VIVO

Hard Drive

Maxtor 60GB 7200 RPM

Sound Card

Sound Blaster Live Audigy Gamer!

DVD-ROM

Pioneer 105s

CD-RW

Lite-On 24x10x40x

Case

E-Star Case /w 2 Case Fans
After 1 hour use @ 1.4 GHZ: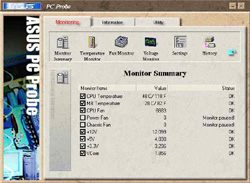 (Click to enlarge)
Conclusion:
While testing this fan I've come to notice that there are several flaws with this fan, it is extremely loud and possess' a very high pitch, which still gives me headaches! As well it was very very hard to install and was indeed quite picky with how it would shed results, if the installation was slightly off the mark I'd get the same temps as more people get retail. On the positive note the Dragon Orb 3 is keeping my rig at 1.4ghz (from 1.2) at a steady 49c at full load! Congratulations Thermaltake for giving us a nice fan that gets the job done.
8.5/10 Rating
If you have any comments feel free to email me.