Samsung SyncMaster 151MP LCD Monitor Review
Published By: Paul Machado
Review Date: August 4/2002
Product Supplied By: Samsung Canada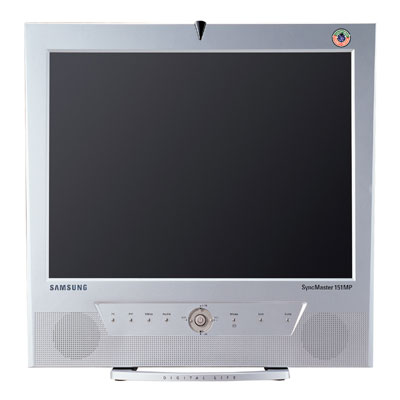 Company History/Profile:




We're celebrating 15 years in Canada

On September 23, 2002, Samsung Electronics will celebrate 15 years of business in Canada. We would like to thank our Canadian customers for their confidence and loyalty and are proud to present our 2002 line-up.


Samsung Electronics in Canada

After only a decade of growth since first entering the Canadian market in 1987, Samsung Canada, headquartered in Mississauga, Ontario, has emerged as the market leader. We are growing in Canada by about 20% per year and continue to build a strong presence in every market we enter. Operating as part of Samsung's Americas group, our Canadian operations gain considerable competitive advantage from Samsung's local Americas R&D, manufacturing, and technical support. Samsung Electronics in Canada focuses on consumer electronics and information systems products. Consumer electronics began in Canada in 1987, followed by IS in 1992. The information sales division has grown 61% since 1992. Samsung has introduced a wide range of IS products into the Canadian market, which include hard disk drives, CD-ROM drives, printers, fax machines and monitors enforcing its leading market position and fast year-over-year growth with a strong local presence and reseller network to serve Canadian consumers from coast to coast. Samsung is building a strong presence in Canada as it has all over the world.

Introduction:

Samsung has really been producing some great products lately and have given myself the chance to be able to analyze and review them. First was the Samsung Tantus LTM1575W, then was the SyncMaster 191T, and now we have a look at the SyncMaster 151MP which is a 15" TFT- LCD Monitor with TV tuner capabilities as well.

In the past years LCD display prices have dropped considerably but are still quite expensive depending on what make and model. Although they are more expensive than CRT monitors it is unfair to compare the two. CRT monitors provide a great price to size ratio. You can get a 19" monitor with great features and a great contrast ratio for a few hundred dollars now. Then again you get all the extra weight and size that a CRT monitor carries while a LCD monitor is more expensive but are light and compact. As you can see each type of display have their pros and cons so I will not get into any more detail on whether which type "is better". Instead lets have a closer look at the Samsung SyncMaster 151MP and see how it rates over other LCD displays in its class.

Product Specifications: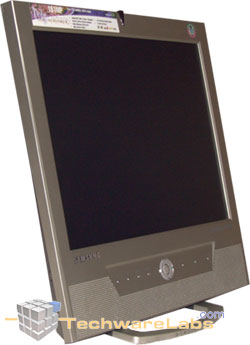 | | |
| --- | --- |
| | Samsung SyncMaster 151MP |
| Panel | TFT LCD |
| Viewable Area | 15" |
| Contrast Ratio | 330:1 |
| Brightness | 250cd/m2 |
| Pixel Pitch | 0.297mm |
| Horizontal Frequency | 70KHz |
| Vertical Frequency | 85Hz |
| Max. Resolution | 1024x768 |
| Special Features | HDTV ready, TV tuner (optional) capabilties, PIP, S-video |
The 151MP boasts its fair amount of great specifications with some improvements over the 150MP. The 151MP has a higher contrast ratio and is brighter. Although it does have some improvements I have have liked to see Samsung include the TV tuner function standard and not have it optional.
Lets now have a look at the features of the 151MP.