Samsung 172B 17" LCD
Review by Navid Mortezaei on 03.07.03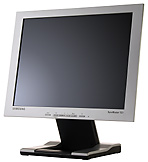 Introduction:
When LCD monitors came out they were a lot thinner than CRTs, however the horrible picture quality really deterred users from purchasing them. Another drawback to LCDs was very limited viewing angles, which made many weary of the new technology. Over the past few years, however, new LCDs have come out that are thinner and offer a somewhat better picture, and have an increased viewing angle. Unfortunately, they have always "ghosted" when displaying high FPS games and video. In addition to this drawback, the outrageous price of these beautiful screens limited their audience. This is why the majority of users have not made the upgrade to LCD.
Samsung is one of the biggest manufacturers of electronics in the market today. They make everything from a microwaves to 40" HDTV Plasma Screens. They are also one of the leaders in LCD manufacturing and are intensively campaigning to get more people switch from CRT to LCD by increasing picture quality, while still keeping one of the lowest prices in the market.
The Samsung 172B 17" LCD is one of the slimmest LCD monitors on the market today, but will being thin sacrifice picture quality?