Razer Pro|Type Keyboard with iPod Dock

Author:
Andrew Wizniowski
Date:
2007.11.27
Topic:
gaming
Provider:
Razer
Manufacturer:
Razer
Razer Pro|Type Keyboard with iPod Dock

Introduction
Razer is well known as a company the designs gaming and multimedia input devices and accessories for gamers, by gamers. They make a quality product for an affordable price. Today I'm looking at the Razer Pro|Type keyboard with an iPod dock.
Packaging
As with most gaming keyboards, the box is meant to catch the users eye and attract them towards the contents of the box. Although the Pro|Type's box is not flashy, it does have a touch of elegance. As we can see below the box is predominantly white displaying the keyboard with its various back-lit buttens and the Razer logo on the dead center of the wristpad. In addition we can see an iPod in the dock that the keyboard provides. It can also be noticed that the keyboard is MAC compatible for the MAC users who'd like a matching white keyboard.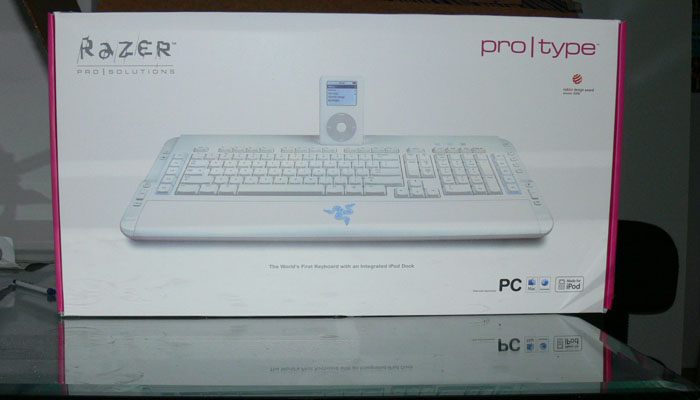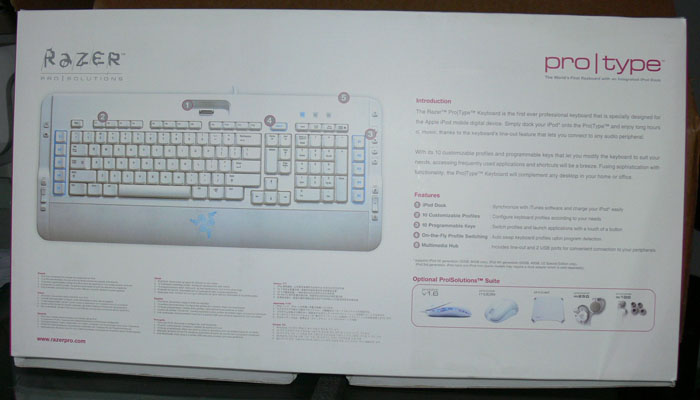 The back side of the box reveals the various features and benefits of the keyboard such as the extra programmable keys on the left and right side of they keyboard. In addition, multimedia keys are outlined and their function explained.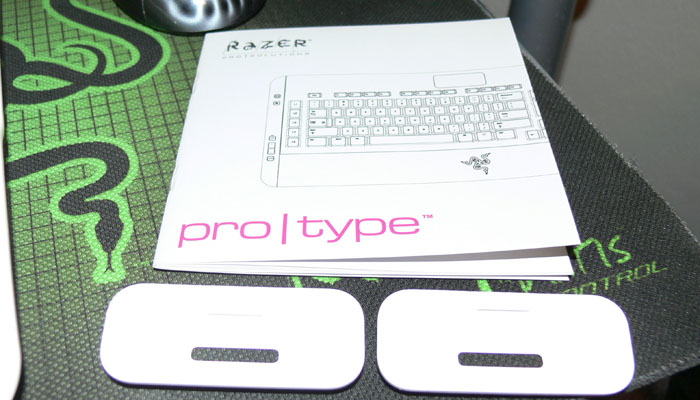 Inside the box you will also find an instruction manual that has the driver install CD on the last page, and two iPod holders for the Dock. These simply allow for the larger iPods to fit snuggly in the dock instead of floating around and breaking the connector.