AData Vitesta G-Series Memory 4GB DDR2-800
AData Vitesta G-Series Memory 4GB DDR2-800
Introduction:
AData has just recently release their Vitesta Gamer series memory. This memory was designed for those who demand the most out of their systems, ie. Gamers. Lets take a look at how well it performs, and compare it against others memory that have recently been tested.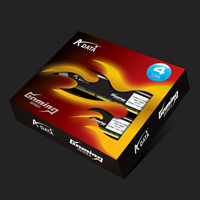 AData's Take:
A-DATA Technology Co., Ltd., the global leader in memory products, has released Vitesta Gamer series, especially designed for highly memory demanded enthusiast. A-DATA Vitesta G series offers flawless gaming experience in 2GB x2 dual channel configuration and high capacity. With high capacity memory, G series has also unleashed the power of 64 bit operating system, Windows Vista platform, which brought you into next level of digital life that you never experience before.
Over the years, A-DATA has built a reputation for consistently high quality. Based on A-DATA's strict quality control and testing, this memory module fulfills any 3D gamer platform's high capacity requirements for Massive Multiple Online Gamers, professional graphic designers, and multimedia auditors.
-AData
Features:
Suitable for: Desktop PCs
Module Type: 240Pin Unbuffered-DIMM Non ECC
Capacity available: 2GB Dual Channel Kit (1GB x2); 4GB Dual Channel Kit (2GB x2)
IC Configuration: 128M x8
Transmission Bandwidth: 8500MB/Sec(PC2-8500)
Cas Latency Timing: 5-5-5-12
Working Voltage: 1.9V~2.1V
Lifetime warranty
REALTIME PRICING