Review- AMD Athlon XP 2000+ vs. Intel Pentium 4 Northwood
Techware Labs gratefully recognizes AMD's support in making this review possible!
Review by Edward Chang, call sign: Big_E
May 7, 2002
Introduction
:
The battle for speed supremacy between CPU makers AMD and Intel continues. AMD's Athlon XP processor family has finally replaced the discontinued Athlon Thunderbirds, and also acts to counter the faster Intel Pentium 4 processors. Although the Athlon XP is clocked lower than what their name denotes, it is undoubtedly a formidable foe that refuses to be trampled by Intel's faster clock speeds. In the recent past, we have seen in benchmark comparisons between AMD and Intel processors, the fastest AMD Athlon 1.4 GHz Thunderbird can easily outperform a Pentium 4 with a higher speed rating. AMD became aware of this awesome performance-to-clock ratio and decided to use a PR (Performance Rating) system. This new methodology serves to explain to the average consumer that, for example, this Athlon XP 2000+ being evaluated today, is equivalent to a Intel Pentium 4 and also an AMD Athlon Thunderbird running at 2.0 GHz. However, Intel recently released a new Pentium 4 processor, the Northwood family, that supposedly performs much better than the original Pentium 4. Thus, we will give these two processors today the opportunity to duke it out. Which will be victorious?
A Little Bit of History:
Founded in 1969, Advance Micro Devices is now the second-largest supplier of PC processors. Over the years, AMD has produced many processors for a variety of purposes. Long ago, the AMD K5 and K6 processors drew a lot of attention because they offered a viable , lower cost alternative to Intel's popular Pentium processor. The first processor to incorporate AMD's innovative 3DNow! technology was the AMD K6-2. Although its Floating-Point Unit was inferior to Intel's FPU, the AMD K6-2 processor delivered an outstanding combination of price, performance, and decent 3D experience. AMD improved on this design and created the AMD K6-III processor, which incorporated an innovative, and only, TriLevel Cache design that took advantage of the cache on motherboards of that time. Today, no motherboard supports this tertiary cache, as cache has migrated onto the CPU core itself. The succeeding AMD Athlon processor is among the world's most powerful engines for PC computing, and represents the industry's first seventh-generation x86 micro architecture. The AMD Athlon derived AMD Duron processors were specifically designed to provide an optimized solution for the most demanding value conscious business and home users, without compromising performance. Durons can easily clobber an Intel Celeron processor of the same speed. These two processors ultimately turned the tide for AMD, allowing them to break new sales records and giving Intel a run for its money. Today, the AMD Athlon XP processor with QuantiSpeed architecture, powers the next generation in computing platforms. In a matter of weeks, AMD will be releasing their Thoroughbred-line of processors, which will mark AMD's migration to a .13 micron architecture.
Introducing the Processors: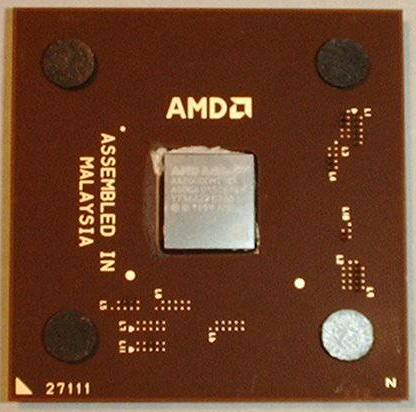 AMD Athlon XP 2000+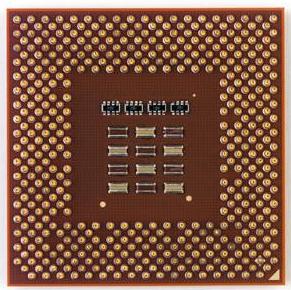 Back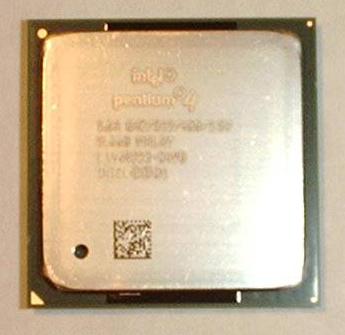 The adversary
The AMD Athlon XP processor is essentially an enhancement over the AMD Athlon Thunderbird. The core has been redesigned to utilize voltage better, thus lowering heat by a few degree Celcius. Notice that the core is now more square than rectangular. Furthermore, AMD also decided to save money by using an organic substrate for the base rather than the ceramic that they have been using all these years. Another physical change is the transfer of surface capacitors to the Athlon XP's under side. Finally, AMD also took extra precaution to prevent the overclocking of their processors by cutting the L1 bridges with a laser. This gives the bridges a dark, charred appearance. In addition, the L11 bridge is now the voltage regulator, instead of the L7 bridge on Thunderbirds. Lastly, as mentioned, AMD uses a PR naming scheme for the XP-line of processors. This here AMD Athlon XP 2000+ in reality, runs at 1663 MHz, but it will take on an Intel Pentium 4 2.0 GHz any day. Now with the faster Northwoods out, AMD will have to prove themselves capable again.
Now, let's take a look at the features.