Author:
Mike Santini
Date:
2008.10.08
Topic:
Miscellaneous
Provider:
NZXT
Manufacturer:
NZXT
NZXT Sentry LX

Installation
Just like NZXT says, the Sentry LX was very easy to install. Just slide the Sentry LX into two 5.25" bays, connect the fans to the controller instead of the motherboard, and place the temperature probes in the parts of the case you want to monitor (with either scotch tape of the little stickers that come with the unit). Then, plug the unit into a spare molex connector, and you are done. This controller will definitely clutter your system up if you are not careful though; the Sentry LX will add a total of eleven cables to you rig (which to me can be frustrating).
After installation, the Sentry LX proved itself once more by showing fairly accurate temperature reading. The temperature in my BIOS and the temperature on the Sentry LX were only off by about 1-2º, which isn't bad considering the Sentry LX is taking the temperature of the area and not a specific piece of hardware.
Conclusion
In the end, the NZXT Sentry LX has proven to be an excellent fan controller. The results were accurate, the user interface was intuitive, and the design was flawless. At $69, the Sentry LX isn't too expensive, but is definitely worth the money. Just as well, we at TechwareLabs give the NZXT Sentry LX the Awesome Hardware Award because it's just that great.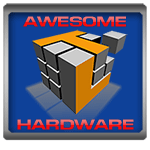 REALTIME PRICING